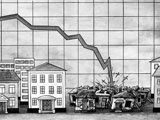 It seems Armenian Foreign Minister Edward Nalbandian's fame is giving no peace to the country's Finance Minister Tigran Davtyan.
All had long been accustomed to regular fantastic and comic statements by the foreign minister. He has outperformed other Armenian ministers in this respect. But some people who apparently cannot tolerate such a state of affairs have literally decided to grab the palm from Nalbandian.
Recently Davtyan gave an assessment of his country's economy, which was said to have been hit harder by the economic crisis than any other country in the CIS. It was later recognized as the most affected in the world along with Estonia and Latvia.
But, in spite of everything, Davtyan and his bosses are neglecting the consequences of their incompetent economic and foreign policy.
"Armenia is safe to enter 2010 and intends to continue its policy of stable economic development," said Davtyan, surprising even fellow citizens who are not good at numbers. The minister said Armenia's economy has stabilized, adding that a new stage of stabilization and reconstruction has begun.
Worthy of note is that the finance minister's words came after International Monetary Fund expert Mark Lewis visited Yerevan. He said that there is high inflation in Armenia. And all this is happening on the backdrop of an interview with Russia's Euroset President Alexander Malis, who said the Armenian market lacks healthy competition and the company does not intend to return, adding that "it is possible to not pay taxes, but simply give a bribe in Armenia."
All this is happening also on the backdrop of the complete failure of the Armenian government to implement an affordable housing program for young families and a strike on the gold market in Yerevan. Industry employees demanded that the government rescind a number of decrees, which, in their opinion, will completely "kill" business.
But Davtyan, like a young man not wishing to see the obvious shortcomings of his beloved, continues to extol the Armenian economy, resorting to ridiculous comparisons.
Armenia's finance minister compared his country with a patient whose temperature increased to 40 degrees and then fell.
"The body is still weak, but it is already on the mend," Davtyan said, adding that "the recovery will occur faster than we expect."
I do not have personal acquaintance with Davtyan, but he seems to suffer some problems related to his imagination. Well, to be objective, Armenia's economy can only be compared with a man in a deep coma, but not a patient whose temperature increased to 40 degrees. Secondly, the coma, from which the Armenian economy suffers, is so deep that the latter hardly ever wakes up on its own without help of nearest neighbors like Azerbaijan and Turkey.
That is, the recovery of the country's economy depends solely on the Armenian government's foreign policy. If the latter has sound mind to mend relations with Azerbaijan and Turkey, the Armenian economy can really recover. Otherwise, nothing will help.
A bad example, but true. I would advise Mr. Davtyan not to follow in the footsteps of  Nalbandian to save at least some of the people's respect...
H. Hamidov
Day.Az writer