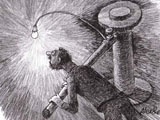 I strongly recommend to Armenian President Serzh Sargsyan to carefully watch the "Carnival Night," which has been a favorite movie of several generations. Painfully, his behavior reminds of that of the movie's main character.
"There is a rule to happily celebrate the New Year!" Serafim Ivanovich Ogurtsov used to say.
"There is a rule to normalize Armenian-Turkish relations," says Sargsyan in almost all his speeches.
Armenia's attempts to get the Turkish Parliament to ratify the Zurich protocols, which were amended by the Constitutional Court of Armenia, seem too comical.
Thus, the "Armenian Ogurtsov" has already borrowed a quote from Ivanovich, which says: "I personally bear no responsibility for all that was here today!"
Sargsyan said in an interview with Al-Jazeera that Turkey is delaying the Armenian-Turkish normalization process. Of course, it is impossible to deceive all at once…
Moreover, Armenia's "thesis" no longer puts a smile on the faces of those whose support Armenia hoped to attract. As a result, the country more and more turns into a rogue states, a regional dwarf, whose actions have already bothered many.
Armenia's leadership is not invited to any major world forums and the country's officials don't even meet their president on his returns from visits abroad. His recent working visit to London is a proof of that.
This brings to mind another Carnival Night hero, lecturer Nikadilov, who wandered backstage shouting "People! Ay-oo-oo!"
Apart from lack of signs of warmth at London's airport, Sargsyan was not received by Prime Minister Gordon Brown. After something like this, a self-respecting head of state would at least be ashamed and would make some conclusions. But we're talking about Sargsyan here.
According to Serzh Azatovic, Barack Obama "does not respond to the process of recognizing the 'genocide' of Armenians. Those in Azerbaijan are very well aware how the concepts of the Armenian dream and honesty are far from each other.
I am convinced that the Armenian president's dream, the "Armenian genocide" to be recognized by the United States, will be as different as this one.
I will once again indicate Armenia's true place as a rogue state, which can sometimes be used for purposes of others, but will never be respected.
The reason behind such an attitude towards Armenia is its own policy of ignoring all international standards and claiming the territory of neighboring countries. This kind of "music" caresses the ears of Armenian nationalists and terrorists.
Sargsyan better remember the "thesis" of comrade Ogurtsov: "It is necessary that the music will take you, lead you, but not take away."
A. Hasanov