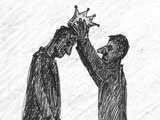 The recipe for Armenian President Serzh Sargsyan to keep his presidential post is to withdraw troops from the occupied territories ...
Once chief said to his subordinate: "You, of course, are a good guy, but there is no place for good guys at our company!"
This funny story reminds me of the relationship between ex-Armenian President Robert Kocharyan and incumbent president Sargsyan. It is up to you to decide who is "the boss" and who is 'the subordinate" in this case.
Nominally, Sargsyan seems to be the boss. But in reality Kocharyan may still remains the chief. The latter is no longer president and he seems not to want to become president again (two presidential terms harmed his health, which he is now vigorously treating at Moscow's fashionable bars and restaurants), but he is not in a hurry to leave politics either.
We have already wrote about his frequent meetings with members of the Iranian and Georgian governments. At these meetings, he has acted on behalf of his government and made statements as his country's ex-president. Only opposition deputies who are extremely dissatisfied with this the state of affairs outwardly react to this in Armenia. Sargsyan's team keeps silent or they seem to be silent. In fact, they are edgy. They monitor, review and analyze any information related to Kocharyan.
In fact, under such circumstances, one feels very sorry for Sargsyan. On one hand, he faces pressure from the diaspora  which adamantly opposes the normalization of relations with Turkey. In order to survive, he is forced to flirt with them. The Constitutional Court decision on the Armenia-Turkey protocols can well be considered one of the elements of this flirting.
The opposition led by Armenia's first President Levon Ter-Petrosyan, which enjoys significant support among voters, is also applying pressure. It is pertinent to recall the radicals who occasionally threaten the country's president.
One would sympathize with Sargsyan if you add regular pressure by Turkey and Azerbaijan, Russia and the West.
On top of it all, now he has one more headache – Kocharyan. The latter is in no hurry to take action to regain the presidential chair, waiting for the right moment. He has met with senior officials of other states, irritating Sargsyan, and forcing him to stumble and make bad decisions.
Currently, Sargsyan is facing a difficult task. He must finally decide on the ratification of the Armenian-Turkish protocols and make a decision on Karabakh. The ratification and return of the occupied lands will be the most sensible step, although Sargsyan will face pressure in this case. It is possible that Kocharyan awaits exactly this.
On backdrop of this wave of discontent, he can break into the Sargsyan's office and overthrow him. Such a court coup does not require people to take to streets and destroy the already miserable window shops in supermarkets. In fact, Kocharyan will never be able to lead the Armenian people again. He knows this very well. The Armenian army, the higher ranks of which are held by people from Karabakh like Sargsyan and Kocharyan, will have the final say.  
Whether Sargsyan will allow to do the above-said with him is another story. He is well aware that this scenario is quite possible and now is trying to take countermeasures. Eight or nine ministers of the current government are reported to be changed soon. Surely Sargsyan will replace them with people more close to him. In parallel, he is actively moving closer to current Defense Minister Seyran Ohanyan, another Karabakh resident, resulting in frequent joint public actions.
However, the most important aspect to preserve Sargsyan's presidential post is to explain his subordinates and citizens that withdrawal from occupied Azerbaijani territories and establishing relations with Turkey is inevitable. He risks not to be understood and even overthrown, but chances to keep the post is great.
Sargsyan may also pursue a policy of delaying time. Believing that in this case he will keep his presidential chair as long as possible, he will probably be removed in a short time because nobody likes half-hearted mumblers. In this case, Kocharyan has more chances to return to power after which we can bid farewell to progress in resolving Karabakh problem and normalization of relations with Turkey...  
As a result, as paradoxical as it may sound for Sargsyan, it becomes apparent that the only way for him to retain his post is to leave the occupied territories and to establish normal relations with neighboring Turkey. In doing this, he would certainly encounter tremendous pressure, but he can stand it if he properly explains the benefits of these steps to the Armenian people.
But I do not think that ordinary citizens need any explanation. They certainly suffer from Armenia's current state more than anyone else and understand the prospects of establishing relations with neighboring countries ...
H. Hamidov
Day.Az writer