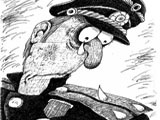 "Thank you doctor for curing my megalomania. Now I'm a totally unbeatable, fantastic and a man of phenomenal modesty."
This joke, written more than 40 years ago, displays the essence of Armenia's current Defense Minister Seyran Ohanyan. To put it bluntly, he loves lying. What can we do about it?
However, no need to get offended. According to Armenian media, he is a nervous and overly emotional guy. He may even be sorry that the "emo" youth movement did not exist when he was young, because who knows what his fate would have been...
As usual, Jan. 28 is a holiday for him. Not professional, of course. I'm not saying that he is a military man by occupation; he is a professionally qualified military man .. Well, it happened ...
Of course, all the trouble stems exactly from this but people should still love their job.
For example, who that is good at his job says at a ceremony marking the 18th anniversary of the Armenian army, that it has allegedly undergone "a difficult way of formation and development and has become one of the most powerful armies in the region"? I think no one, but Ohanyan did. Some people may call him crazy in this case …
He is absolutely healthy though. 
If one thinks over the minister's words, it turns out that he did not lie at all. The Armenian army is really one of the most powerful in the region, of course, after the Russian, Turkish, Iranian, Azerbaijani and Georgian ones.
True, the formation was hard but I dare make some corrections to Ohanyan's words and say that it is still experiencing hard times.  The end is still too far and hardly visible. Did he lie? Not of course. He simply needed to be a little bit more accurate.
He was also telling truth when he said that his army enjoys wide international recognition. How can we not feel "respect" for the army, whose soldiers are often on the frontline, and are regularly taken captive by Azerbaijani soldiers? I am sure that Ohanyan considers them national heroes, and, in his opinion, these are the soldiers who one day decided to mine the enemy.
It does not matter if they had ragged shoes, no food, trained with cardboard swords rather than guns and were regularly beaten by the officer corps. This did not broke their fighting spirit, but rather inspired new feats.
Feats, as you know, are contagious things. And now ,entire Armenian families have decided to follow the example of their soldiers; sitting behind the wheel of their cars, crossing the Azerbaijani-Armenian border. On Jan. 10, Eghishe Gevorgyan did just that together with his wife and three young children.
So, the minister has plenty of reason to be "proud." However, in Ohanyan's words, it is "constantly improving." That is it.
H. Hamidov