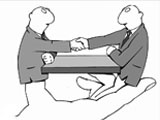 Armenia is on the threshold of a huge choice.
The game is going to be over soon. It seems impossible to hold areas around the former Nagorno-Karabakh Autonomous Region under occupation any longer.
The long-awaited establishment of relations with Turkey, which promised a way out of isolation, is linked with a peace agreement and compromise with Azerbaijan. In addition to Ankara's warning of a breakdown of the process of normalizing ties with Yerevan, being dissatisfied with the Armenian Constitutional Court decision, the compromise with Azerbaijan is a concession.
A couple days ago Armenia's former PM Grant Bagratyan rightly said that Armenia will have to ask about the conditions that it is now being offered after a few years. 
Azerbaijan President Ilham Aliyev said at a Cabinet of Ministers meeting that, "The ways to resolve the Armenian-Azerbaijani conflict over Nagorno-Karabakh conflict has been identified –  the principle of territorial integrity has been chosen as priority. This formula can be decisive to resolving the conflict."
Although Armenian media are prone to describing statements from Azerbaijan as "products intended for domestic consumption," today the situation is clearly different from those previous. Neither Armenia nor its external donors are able to hold all grab. No need to talk about someone else as existence of the Armenian state is at stake at the moment.
Let's cite some facts. Stupidly hinting at the "Dutch Syndrome" in Azerbaijan's economy, the Armenians seem to "forget" about their own life. Lets compare the figures: Azerbaijan's GDP grew 9.3 percent whereas Armenia saw a decline of 16. 3 percent in 2009 despite the fact that the economy of the aggressor country is four times behind the economy of the country part of whose territory is occupied. Per capita income also varies greatly.
Who benefits from this confrontation? The question is addressed to an ordinary Armenian citizen who has lived without electricity and heating almost half of 1990s. What have you achieved? Prosperity of the so-called "Artsakh" from where your relatives are running away? The region to which you have failed to give legitimacy? The region due to which your children are deprived of a piece of external assistance? Or is it just your national pastime to suffer always and everywhere because of the false myths?
The Armenian society needs to come to senses and sober up. We live in the 21st century. Civilization requires a different and pragmatic approach respectful of not mythical ancestors, but a real living person. And a man has the right to live under human laws, the right to existence, rather than secular delirium and to life by laws of tolerant resident of the country, but not to live decades far away from the country that still lives in the past.
Maybe that's enough? Perhaps it is high time to have a look at a future and common values that unite rather than divide as is happening now.
I have got impression that the parties are close to understanding. Yerevan seems trying to pursue pragmatic policies despite that Armenian President Sargsyan has left the coat of a hawk as a direct participant in the Khojaly massacre. Armenia has realized the disastrous situation or has come to terms with it.
I am far from naive perception that a person's character can change, but I believe in logic. The Armenian side is aware of the situation in the country, understands the hopelessness and feels a systemic crisis, when the economy is moribund and external donors like the Diaspora and foreign states are no longer ble to sponsor Armenians' ambitions. Also, it knows that it is not worth doing it. So, Armenia is going to sign a peace agreement calling for concessions to Azerbaijan. Otherwise it will still face a weak economy, growing Azerbaijan, again a need to open borders with Turkey and again Moscow's more loyal attitude towards Baku.
Is there another way out for Armenia? No and no. But there are forces that are obsessed with unrealistic ambitions. Today Sargsyan is under a total pressure. He faces pressure from the Diaspora, which can no longer cover its vast claims by significant financial influence. Systematic opposition on behalf of the ANC is also putting pressure. But, neighbors, was it Ter-Petrosyan who tried to convince you that the situation will be this way in future? ARF Dashnaksutun, which actually is to blamed for your tragedy that has lasted for a century, generals, who earn ther lives from the war, ex-president Kocharian, who wants to remove the prefix "ex" and elite of the Armenian community of Karabakh, which has turned into a vacuum cleaner sucking your potential and actual income, are also exerting pressure.
It is not difficult to understand the metamorphosis that Yerevan has undergone. I would better call it pragmatism. It is also easy to imagine a situation in which Serzh Sargsyan has wound up. The former hawk has become a pragmatist. Jingoism will not accept it. Jingoism wants another "hero." Why to look for a new once there is old one. In the meantime, Robert Kocharian stages a comeback. This is his chance to once again lead Armenia through a court or a street coup.
Let's pay attention to the rhetoric by the former member of his former presidential team ex-Foreign Minister Vartan Oskanian. "Despite the fact that we were once members of one team and supporters of the same foreign policy, the current scenario of events has been a surprise for me .... " The current policy of the authorities at 180 degrees different from the policies of the previous regime ..." "The current leadership has usurped the power ..."
You think his says truth? Not at all! That is said by Kocharian who longs for power. He wants to return thanks to the well-being of Armenian citizens who will have an opportunity of a large breakthrough both at personal and public level in a case of peace with Azerbaijan.
Nobody says Karabakh Armenians should be evicted. They will be given the highest autonomy. Ponder that concept. The highest is what no one has ever had. This is the limit. Why once again succumb to paranoia? Why miss a chance? Why to follow personal ambitions of Kocharian and others of that ilk? We must live by today and look to the future. There is one future. Remember Kocharian's words about genetic incompatibility between Armenians and Azerbaijanis. Is such a way of thinking is a way out of the situation? Does it promise any benefit to your nation?
I believe you must make a choice in favor of pragmatism, even if it is forced.
K. Guluzade