There is a new political fashion in Yerevan.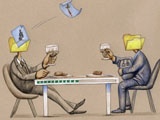 This time they accuse Azerbaijan of "cultivating armeniaphobia", "lack of tolerance" and "provoking anti-Armenian sentiments".
In fact, these cliché are interpreted in Armenia in some peculiar way. The issue of "armeniaphobia" is raised each time when new facts about crimes of the Armenian aggressors against Azerbaijan are presented to international arena. Launch of a new website which contains materials on Karabakh conflict and the history of Karabakh or something like that was immediately followed by screams about "armeniaphobia" with obvious attempts to raise awareness of international organizations about this "problem".
However, there has been no special feedback yet. Experts with little bit of sound mind are aware that there is a huge distance between the truth about the war and "provoking hatred". Documentary about the Khojaly genocide, produced by journalist Chingiz Mustafayev, is brutal realities of war, but not "anti-Armenian propaganda". Similarly, everything that is dedicated to the memory of those killed in World War II  including Picasso's "Guernica", Khatyn memorial or Yad Shem can be described as "instilling hatred" or "provoking xenophobia" against, for example, the German people.
Finally, one fifth of Azerbaijan's territory remains under Armenian occupation and refugees have not yet returned to their homes. All these facts must be highlighted in media where freedom of speech reigns. The duty of journalists is to write about what is happening, but not just to please some readers. In the meantime, the terrible reality of the Armenian aggression against Azerbaijan is personal experiences and memories for many.
However, one can understand these estimations by Armenian politicians and advocates. Armenia has openly admitted that it loses "information war" to Azerbaijan. However, country's "agitprop" is in no condition to deny the fact of the Khojaly genocide and incumbent Armenian President Serzh Sargsyan's (he admitted it in a conversation with Thomas de Waal) and Defense Minister Seyran Oganyan's complicity in this crime. So, they are obliged to "invent the response moves" in style "but you have exploitation of a man by man". There is no need to mention that many in Yerevan are willing to repeat the experience of the Soviet years, which ordered to forget about bloody raids of Dashnaks in Baku and Guba in 1918-1920, the March massacre and others for the sake of "proletarian internationalism".
Possibly, by employing such screams, Armenian politicians clearly hope to "influence" future status of Nagorno-Karabakh. Moreover, references to "self-determination of nations" made little impression on the world community. Few people in Washington, Paris, Brussels and Moscow are keen on recognizing "independence" of the Karabakh separatists. Finally, the Minsk Group is clearly not going to be guided by the results of the game called "referendum on independence of Nagorno-Karabakh." On this backdrop, screams about the imaginary "lack of tolerance" of Azerbaijanis is one of the few ways Armenian ideologists have been left to influence the situation. Of course, one cannot say that this was a very strong argument, but the "Ministry of Truth" established in Armenia is demanded to show an "active work". So, it is  trying to honestly portray activity and then report on it.
The more dangerous is that the very "Ministry of Truth" has launched downright nationalist hysteria reminiscent of the worst periods of the Nazi magazine Der Sturmer in the Armenian media, not marginal, but rather close to government circles.
Azerbaijanis and Turks act as Jews in this case who are accused of every conceivable sin, from the "barbarism" to "capture of the Armenian land." They invent "horrors of the Turkish atrocities" (mainly based on personal experience of pogroms and ethnic cleansing against Azerbaijanis in Zangazur first, and then in Karabakh and surrounding areas ) ... And this is not the activity of certain particularly exalted individuals.
Research institutions, associations and centers are established under this task to tell the citizens of Armenia and ethnic Armenians abroad how Turks and Azerbaijanis are "evil" and "bad" and how it would be nice if their lands were under Armenia's control.
"Traditional parties" like Dashnaks, the government, not to mention the pro-government media are especially active in this regard. At some point, one gets tired of getting surprised at how these people are full of hatred towards their neighbors and are deeply convinced that they are "dominant influence" and create public opinion of their own people.
The most disturbing is that this hysteria started not yesterday or the day before. Myth about "Armenian genocide" prevailed in the Armenian environment for decades which brought about hatred towards Turks.
It is clear that on the eve of World War I, myths about "Turkish atrocities" had a clear basis since European countries tried to substantiate their claim to the Ottoman Empire's lands this way while Armenian leaders were ready to maintain these interests of European powers. Later Stalin showed interest in this myth intending to expand borders of the USSR in general, and military bases on the Bosporus in particular.
The seizure of not the Turkish lands, but Azerbaijani lands, and above all, Azerbaijani oil is on agenda today. They intend to implement it by methods employed in the first quarter of the twentieth century against the Turks - massacres of the civilian population, constant claims of the "Armenian genocide" and a need to "save the ancient long-suffering Christian people." Therefore they argue that nation like Azerbaijanis do not allegedly exist - Baku is still far away from Karabakh with its oil fields.
Very recently they tried to cover up this lack of facts by outright forgeries. Usual curses and insults are given priority now as it has become difficult to push fabrication. Extreme level of hatred on the Internet forums is not surprising, it is truly shocking. This is the same case with articles published in pro-government media outlets which not every moderator will add to forum's main page.
In the meantime, these insults and accusations are addressed to the entire neighboring nations, which are "guilty" only for the fact that they will never give Armenia six eastern Anatolia provinces, Karabakh and surrounding areas. Armenian politicians suggest with anxiety that the country is stuck at the level of the twenties and takes this hatred towards neighbors and a mixture of gangster-revolutionary ideology to the twenty-first century.
However, no one has explained aunt Anoush and uncle Ashot that Armenian nationalist parties used this kind of myth for their political deal and collected "national homage" funding  "historians" engaged in falsification at the same time. They heard talks about "national matter", "patriotism" and "duty to the fatherland". And no one dared to ask aloud the question: how the tiny country with three million people will survive on backdrop of extreme hatred towards its neighbors?  
How to build a functioning economy, how to pursue an intelligible foreign policy so that they will finally be with their children and grandchildren who have prepared for another war which serves unknown interests, and without a real chance to win?   
Another thing is that Armenian nationalist leaders are once again trying to "win" through the others' help. More precisely, the lives of soldiers - other people's sons, because their children will certainly not serve in the military.
Nurani
Day.Az writer