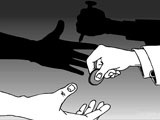 There is a notion "soap bubbles" or "financial pyramid" in economic crime. Laws of "financial pyramids" are simple: these structures properly operate and bring solid dividends to its organizers while can involve new investors and their money, of course. Unfortunately, at some point such "pyramid" can no longer draw new gullible players. Then "overheating" comes and soon newspapers publish headings "Another "soap bubble" burst"!" "Financial scam," "Thousands of investors lost their money!"
There are also political "soap bubbles". When they burst, greater number of people turns out to be deceived. Such a political "soap bubble" burst in Armenia just a few days ago. Journalists uncovered a terrible secret - the Armenian government has refused to allocate funds for resettlement of ethnic Armenians in the occupied Karabakh from country's 2009 public budget. The statement was made by MPs from the Dashnaksutun Party.
This is not just the distribution of budget funds where each party is prepared to defend its interests and its vision of problems and a sudden rush of respect for the laws and international law.
Unfortunately, one would believe that the director of slaughterhouse will soon begin promoting vegetarianism rather to believe in progress in the outlook of Serzh Sargsyan- an accessory to the Khojaly Genocide. A next fraud has been revealed – this time political but not financial. The Armenian strategy to seize both mountainous and plain Karabakh from Azerbaijan has failed.
How easy and achievable everything seemed at first! "Frozen" conflict seemed the best reason to Yerevan strategists for the policy of "fait accompli". The strategy was simple and uncomplicated: to resettle ethnic Armenians in Karabakh and then to present the world community "free Karabakh people" enjoying their "independence" on backdrop of sluggish negotiations within the Minsk Group. They could not imagine even in their nightmare that there will be no Armenians and no options.
Armenian media have already wrote about lack of Armenians for the settlement of Karabakh through clenched teeth seeking to strip up patriotic feelings of Karabakh people who are willing to live anywhere, but not in the former Nagorno-Karabakh Autonomous Region. They could not actually understand why there was no "volunteers" since leaders of the Republic of Armenia and Diaspora promised mountains of gold and "tax haven" ...
Those in Yerevan avoided thinking that the Diaspora's flashy "patriotism" has long turned into a political show business and were deeply surprised that a half million Armenians from France did not rush to the unsettled Karabakh on the first call for the sake of dubious propaganda success.
But this was not the only and major reason. Simply the Diaspora perfectly understood about what Yerevan has diligently and doggedly kept silent. It was calling to travel to "extra-legal area" where the situation is under control by victorious gunmen who through their own experience learned what power a gun can give when there is no law.
However, it is still possible to negotiate with a gunman and even "start relations." The diaspora is well aware that Armenia will have to leave most of these conquered lands sooner or later either voluntarily or not. Armenia will have to do so without any kind of compensation and counter-claims. In this case no court will accept claims to Azerbaijan. The whole world recognizes Karabakh as Azerbaijani territory with all its implications.  
Unlike Armenian citizens, the Armenians in the diaspora, who are urged to "relocate" have access to information, not "filtered" through the newly established Armenian "Ministry of Truth." It will be hard to cheat them by screaming, "We will not give up any inch of land to pernicious Turks." They prefer "to love the motherland at a distance", lamenting fate of the "Western Armenia", walking along the shore of the Mediterranean, but do not sigh for the Mediterranean, sitting on the shore of the Lake Sevan.
The Armenian government has to take into account what professional patriots prefer not to think about. Armenia has no money for first installment not to mention mountains of gold for future "colonialists". Armenia has lacked it for already quite a long time. Economic recession in Armenia has reached 15 percent even in accordance with official figures, setting a record in post-Soviet area. It is too much even amid the crisis.
The figures themselves make clear many things, but not everything. Armenia was sinking deeper into its own national crisis even before the global crisis. Armenia's national-hysterical and current economic problems resulted from its own aggressive policies against its neighbors. Yerevan political "gatherings" could simply not afford their own ambitions specifically after they had to think about boring and unromantic economy where income should converge with the expenditures and the deficit can not be limitless.
On this backdrop, failure of policy of resettlement in Karabakh is the moment of truth. This is clash with reality, though not very spectacular, but very painful. Of course, one can pretend that this is just a "temporary financial difficulties" but in reality Armenia has not simply ended up in a reckless scheme. The failure of the "resettlement policy" was also a sort of an unexpected opinion poll where respondents, the most inveterate patriots of Armenia (!), were asked to  respond whether they believe in a success of Miatsum. It is not difficult to "read" the answer. Those willing to play the role of "human shields" and "lambs to the slaughter" were not found.
Nurani
Day.Az