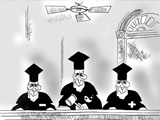 By Hamid Hamidov
Day.Az writer
The hysteria fed by understandings that aggressive ambitions will soon perish, actually, strikes Armenian separatists' brains more and more day by day.
Consequently, statements heard from opposite side of the frontline do not tally with the notion of "a sober mind."
The statement of the kind last came from the "Head" of "parliamentary faction" of "ARF-Movement-88" of "National Assembly" of the so-called "Nagorno-Karabakh Republic" (NKR) Armen Sargsyan while he unexpectedly called on "the NKR authorities" to file criminal charges against those who call into question the territorial integrity of "the NKR" on Oct. 28.
"The people of "NKR" through "nation-wide referendum" adopted the "NKR's Constitution", which clearly specifies our borders and territorial integrity. I appeal to "NKR's law enforcement agencies" and suggest bringing to justice all the citizens who cast doubt on our territorial integrity in the context of compromise or other options," Armen Sargsyan said in a statement.
I think well-informed people will confirm that when a man realizes that the situation is desperate, he in a frantic and  nervous manner invents ways out of the situation that seem faithful to him whilst even more revealing all the hopelessness. Armen Sargsyan understands very well that he will soon say good-buy to his "MP" title in the so-called "NKR". He is most likely concerned on his fate. The understanding that he is needlessness in Armenia leads him undoubtedly to a true depression.
The point is that he even does not realize that by making such statements he is calling for arrest of the Armenian president, his namesake Serzh Sargsyan, and the entire government of this country. Why?
Things are so simple. Many politicians and political experts in Armenia and "NKR" prefer not to remember that a while ago the Armenian president undersigned, as one of the conflicting sides, an agreement on commitment to a peaceful solution to the Nagorno-Karabakh conflict. So, Armenia will not recognize the independence of "NKR" after such a step. It is unreasonable at least.
Nevertheless, another Sargsyan, but this time Armen, persistently calls on to imprison all who reject the territorial integrity of so-called "NKR."
Now it is difficult to decide what to offer to Mr. Sargsyan. Maybe, he'd better to be more abrupt in his attempts to deal with his opponents.
To be serious, I would advise Armen Sargsyan to go to church more often to ask forgiveness from God and from those whom he and politicians like him deprived of life, left without their native land, shelter and quiet sleep.
Pray, Mr. Sargsyan. Believe me, that's what you have to do today. Everything will change very soon. More precisely, all will fall into its place ...
Day.Az