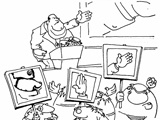 By Hamid Hamidov
A meeting between Armenian and Azerbaijani MPs held in the Russian State Duma on Oct. 22 did not promise any significant decision from the beginning. No one expected any sensational or extraordinary proposals or statements either. But, such thoughts turned out wrong.
Armenian MPs again surprised everyone as usual. Being back from the meeting, head of the parliamentary faction ARF Dashnaktsutun Vahan Hovhannisyan stated that Karabakh dispute was not allegedly discussed at the meeting between Armenian and Azerbaijani MPs. To believe Hovannisyan the Armenian side refused to discuss the problem without participation of the Karabakh side.
Didn't he surprise? Of course, he did. Mr. Hovhannisyan's statement makes immediately ask him a question: then why did you and your counterparts Ara Babloyan, Vardan Bostanjyan, Hermine Naghdalyan and Vardan Khachatryan travel to Moscow? If you did not intend to discuss the Karabakh conflict without the separatists, but regarded as realistic to discuss subordinate issues without the basic one, then what was the mission of this meeting? Perhaps, you could have initially rejected it claiming that it is impossible without separatists.  
Did you just want to come to make it clear to everyone that you do not support your president at all who some time ago signed an agreement on commitment to peaceful resolution to the Armenian–Azerbaijani conflict in Moscow as one of the two sides thus putting an end to all speculations about Azerbaijan's holding talks with the so-called "NKR?"
To tell the truth, I personally don't think that you and those five parliamentarians who arrived in Moscow clamor against Serzh Sargsyan. More likely, you have some disagreements with him on definite matters, but in this case the aim of the visit was not to do a bad turn to the boss.
What was the objective of the Moscow visit then? You did not want to discuss Karabakh, either to do a bad turn to the boss. Then what was the purpose?
Possibly, this is a commonplace case, when an answer is much easier than the question. You might get tired of arriving in the capital of the country which is in blockade. It might be a desire to come out, to take a walk, to rest a little and to do shopping. For you it makes no difference where and why you are flying and what and with whom you will discuss. The main thing for you is to get out of your country and not to return back as long as possible. Isn't it true, Mr. Hovhannisyan?
Even I imagine how you would be nodding with your head, with your left hand holding the "Pshenichnaya" bottle brought from Moscow while the right hand is stretching to Moscow-produced Servelat, if you read these lines alone.
Finally, perhaps you did not hold direct talks on Karabakh in Moscow. The Azerbaijani MPs also confirmed it. However, the conflict was discussed and they confirm it. By the way, attending Russian representatives also stated it and here you have no way to argue. Nevertheless, my congratulations! Cheap PR you're trying to make for yourself in Armenia to raise your credibility among the separatists and their patrons, I think, was a success. You are introduced as hero in the Armenian press...
/Day.Az/