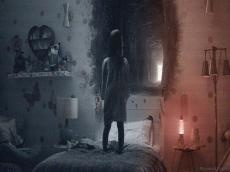 The makers of the Paranormal Activity films may be too embarrassed to use numbers in their titles any more, but the latest instalment, Paranormal Activity: Ghost Dimension, is the sixth in the series – and that means that there have been six whole films in which the characters just happen to use video cameras to record the spooky goings-on in their respective haunted houses.
In other words, Paranormal Activity and its sequels are 'found-footage' horror films: what we're seeing is presented as if it hasn't been scripted, filmed and edited by professionals, but shot on the hoof by the people on screen. It's not the most original of conceits. Even if you discount Paranormal Activity, found-footage horror movies come along with exhausting regularity, from the Spanish zombie hit, REC, and its American remake, Quarantine, to George Romero's Diary of the Dead and Barry Levinson's The Bay.
Blair Witch stands apart from every found-footage horror movie that followed
"I see 100 a year and they're all the same," sighs Alan Jones, a leading British horror authority, and an organiser of the FrightFest horror festivals. "There's an hour of bumps in the night, and then the last two minutes are where the shock and excitement happen. Whenever we show a found-footage horror film at Frightfest, a collective groan goes up."
The film which is usually thanked and/or blamed for this trend is The Blair Witch Project. Released in October 1999, it wasn't the first found-footage horror movie – that honour is accorded to 1980's Cannibal Holocaust – but it was certainly the first that mainstream audiences had seen, and it is invariably credited with opening the faux-documentary floodgates. Whether it deserves that accolade is another matter. In many ways, Blair Witch is a one-off. Rather than being the template for Paranormal Activity and the like, it is a unique, unrepeatable entity that stands apart from every found-footage horror movie that followed.
What was this thing? Was it a snuff film? It was a film you had to see – Jamie Graham
"It seems crazy now," says Jamie Graham, Editor at Large of the UK's Total Film magazine, "but there was some confusion over whether Blair Witch was a real documentary when it came out. And even those who knew it was a mockumentary were sucked into the authenticity of its grainy, seesawing images. The word-of-mouth was phenomenal, and, for British horror fans, the whispers coming out of the US piqued curiosity to almost unbearable levels. What was this thing? Was it a snuff film? It was a film you had to see."
Which witch?
Just in case you didn't see it, though, Blair Witch revolves around three US film students who are making a documentary about a Maryland legend. Having heard that some local woods are haunted by the ghost of an 18th-Century witch, they plan to go camping for the weekend, so that they can get a few atmospheric shots of the wilderness. But then their map-reading fails them in a way which is all-too recognisable to anyone who has ever gone on a country walk.
As days and nights pass, they hear unsettling noises and stumble on ominous arrangements of stones and twigs. And then ... well, it's not clear what happens at the end, but the idea is that the unlucky trio never returned from the woods, and all that was ever recovered was their footage of the ordeal.
What shocked viewers at the Sundance Festival, where the film premiered in January 1999, was how real it seemed. Famously, the Last House on the Left had the slogan, "To avoid fainting, keep repeating, It's only a movie." But the writer-directors of Blair Witch, Daniel Myrick and Eduardo Sánchez, had the opposite message in mind: they wanted viewers to imagine that Blair Witch wasn't a movie, but a documentary.
Not only did the actors improvise their dialogue and use their own names – Heather Donahue, Michael C Williams and Joshua Leonard – but they shot the film themselves while hiking. Myrick and Sánchez left notes around the area, instructing them what to do and where to walk, but they never knew what was going to happen next, so their stress and fatigue are tangibly unfeigned. You don't get that in Paranormal Activity.
"Blair Witch has a strange blend of acting and actuality," Mark Kermode, film critic and a world-renowned horror expert. "When the characters discover spooky stuff hanging from a tree, that's when the actors discover it, too. When they're woken up by something banging on their tent in the middle of the night, that's the directors banging on their tent. Obviously the actors knew that they were making a film, but you can see that they're genuinely befuddled. It's that element of discovery that pushes the performances over the edge, and it really works on the audience. I can remember intelligent people seeing it in 1999, and saying, 'I'm sorry, but was that true or not?'"
Web of intrigue
The air of authenticity wasn't conjured up by the film alone. Just as crucially, and just as innovatively, Myrick, Sánchez and their team devised a website which detailed the Blair Witch mythos, dating back to the late 1700s. The site also featured mocked-up news reports, interviews with people who knew the characters, and pages from Donahue's journal. Millions of people browsed the site before seeing the film, so when the cinema's house lights went down, their disbelief was already well and truly suspended.
I remember people being completely and totally freaked out – Mark Kermode
"The producers were very smart about the way they blurred the line between fact and fiction," says Kermode. "They took a film that cost almost nothing and created a marketing campaign around it that advertising agencies have been trying desperately to recreate ever since."
So successful was this marketing campaign that Blair Witch became a record-breaking hit. The production budget was less than $30,000; sound mixing, reshoots and other post-production took the figure up to $500,000; but the global box office tally was close to $250 million. And, with Hollywood being as mercenary and derivative as it is, it was obvious what would come next: a slew of sequels and imitators.
Except that's not what happened. In fact, there was only one sequel, which was rushed out in time for the following Halloween. Stranger still, Book of Shadows: Blair Witch 2 discarded the found-footage format, leaving nothing behind except a conventional horror movie. As customary as it is to say that Blair Witch sparked the found-footage boom, it wasn't until the arrival of REC in 2007 and Cloverfield in 2008 that the technique became a horror staple – and there was a full decade between Blair Witch and Paranormal Activity. For several years, Myrick and Sánchez's film seemed to be a blip.
The found-footage phenomenon got a boost from 9/11 – Pete Turner
"I think the found-footage phenomenon got a boost from 9/11," says Pete Turner, a film lecturer whose book on The Blair Witch Project was published last year. "People were amazed by the number of amateur camcorders that captured the disaster, and they were quite intrigued by the footage. The other thing that kicked off the modern found-footage spree was the launch of YouTube in 2005. It was only then that we got used to seeing people filming themselves, talking directly to their shaky handheld cameras."
True grit
Back in 1999, however, found-footage horror was a weirder, bolder proposition. "Like all great horror films," says Kermode, "Blair Witch is very much of its moment." It was a moment when three students could credibly go hiking without any of them bringing a mobile phone. Cameras were portable and affordable enough to be carried into the woods, but not so portable and affordable that everyone did so. And the internet was still young enough for the all-important website to have some mystique about it.
The internet was still an intriguing place where information was easy to find but difficult to verify
Hard as it may be to recall an era before Wikipedia, Facebook or Twitter, the internet in 1999 was still an intriguing place where information was easy to find but difficult to verify. It was also a time when Big Brother was only just debuting on Dutch television, and when I'm a Celebrity, Get Me Out of Here wasn't even a gleam in its producer's eye. This is one reason why Blair Witch is so distinct from every other found-footage horror film. It was born during the transition between analogue and digital, between the 20th Century and the 21st.
In terms of horror cinema, Blair Witch appeared at the perfect time, too. "If you look at the other horror films of that year," says Turner, "there was The Sixth Sense, with Bruce Willis; there was Jan de Bont's The Haunting, with Liam Neeson, and Catherine Zeta-Jones; and there was The Mummy, with Brendan Fraser and Rachel Weisz. Horror films were becoming very watered down – full of big stars and CGI, and trying everything they could to get a 12 [PG13] rating. Audiences had had enough. They were ready for the lo-fi ugliness and grittiness of The Blair Witch Project."
Sixteen years on, it's easy to forget how unusual the film was. "We're all inured to it now," says Kermode, "but seeing a film shot on a video camera in a cinema in 1999 was genuinely quite odd. And it worked. That's what counts with a horror film: does it work? I know it's very fashionable to say the Blair Witch isn't as scary as everyone said it was, but I can tell you it worked, because I remember seeing it for the first time, and I remember people being completely and totally freaked out."