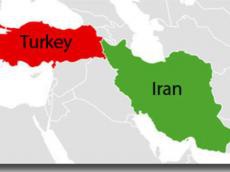 By Sara Rajabova
There is proverb saying "two of a trade never agree". This opinion fully reflects the relationships between two ambitious countries in the Middle East – Turkey and Iran.
Although the two countries enjoy close economic relations, Tehran and Ankara could not translate these relations into a political alliance.
The recent remarks by Turkish President Recep Tayyip Erdogan addressed to Iran have sparked a diplomatic controversy between the two countries. Tehran handed an official note of protest over Ankara in connection with President Erdogan's criticism on Iran that said "Iran is trying to dominate in the region."
Despite following the same religious faith and belonging to the vast Islamic world, Turkey and Iran belong to different sects of Islam. This factor continues to play an important role on their respective positions over developments taking place in the Middle East, especially since the Sunnis for now at least lead the train in terms of influence.
Recent events in Yemen have deepened the political confrontation between Iran and Turkey, as the two countries have already followed different stance on Syria and Iraq issues.
Tensions between Iran and Turkey have increased in recent times as Iran has taken a larger role in the fight against the Islamic State. Iran has sent military commanders to lead irregular forces in Iraq and Syria, both of which border Turkey.
Turkey, as well as Saudi Arabia is not satisfied with Tehran's active participation in the significant events ongoing in the region. Possible strengthening positions of Shia-majority Iran in the region is perceived as a real threat for these countries.
Iran in recent years has boosted its efforts to take active part in the ongoing events in the world, especially in the Middle East region. Iran supported Syrian president Bashar Assad in Syrian civil war and now Tehran backs the Houthis - Zaidi-led rebels (Zaidism is a branch of Shia Islam) in Yemen who seized control of Sana'a last year and has since been expanding their control.
Shia Iran supports the Houthis but denies giving them military support or having sent its own forces in Yemen. It demanded an immediate halt to all air strikes - led by a Saudi Arabian coalition - which it saw as violation of Yemen's sovereignty.
Turkey, in the contrary, has supported the Saudi-led military operation against Iran-backed Houthi rebels in Yemen.
Erdogan said earlier that the conflict in Yemen has acquired a "sectarian" nature, and called on Iran to stop supporting the Shia Houthi rebels, something that Tehran denies.
The Turkish president's open remarks about Iran have obviously defined the two countries' stance over regional issues.
Economic ties vs political disagreements
Commenting on the issue, Alex Vatanka, an expert on Iran and senior fellow of the Jamestown Foundation, told AzerNews that Iran and Turkey very much need each other economically.
"They are big trading partners but the intensification of the geopolitical rivalry is getting out of hand. First it was a clash over Syria, then Iraq and now Yemen," he said.
He added that areas of disagreement cannot just keep growing without hurting the economic ties.
"For the last few years, both sides have tried not to let the dispute over Syria ruin the economic ties but President Erdogan is increasingly questioning Iran's regional role and there are also people in Tehran who are openly painting Erdogan as an enemy of the Islamic Republic," Vatanka said.
Ankara retains balance with Tehran
If Ankara has a close relation with Riyadh, Tehran has still none. Both giants are not exactly in good terms, especially in the light of developments in the region and now Yemen.
This situation further worsened ties between Iran and Saudi Arabia.
Aware of the tense rivalry between Saudi Arabia and Iran, Turkey has tried to maintain good relations with both countries. However, its stance on Yemen has showed Turkey's failure to maintain a fair balance.
James Dorsey, senior fellow at Nanyang Technological University's S. Rajaratnam School of International Studies, told AzerNews that "the relation between the Houthis and Iran while existent is widely overstated."
"This is a conflict that has less to do with Iran and more to do with Saudi Arabia's immediate interests in Yemen and an effort to maintain the existing regional order in an era of winds of change. As such Turkey's support of the Saudi effort is unlikely to impact its relations with Iran in any significant manner. Turkey's changing attitude towards the push for change in the region was earlier evident in Erdogan's recent visit to Saudi Arabia," Dorsey said.
Erdogan's recent remarks were considered to have negatively impacted on the Turkish-Iranian relations.
While the country's foreign ministry responded to the accusations as a routine diplomatic comment, the Iranian conservative MPs urge the government to cancel Erdogan's pre-scheduled visit to Tehran.
Iranian MP Ahmad Tavakoli demanded that the country's foreign ministry make a decision as soon as possible, saying Erdogan's trip must be cancelled.
Meanwhile, Iran's foreign ministry said the strategic approach of Iran to the Middle East region and its ties with neighbors is based on peace, stability and cooperation on the basis of mutual respect. "We believe that cooperation between Iran and Turkey has the necessary potential to achieve this goal," said Marzieh Afkham, Iran's Foreign Ministry spokeswoman.
The Turkish president stated that he has no intention in cancelling his visit to Iran and will visit Tehran on April 7. Perhaps, that will mirror the real essence of the current relations.