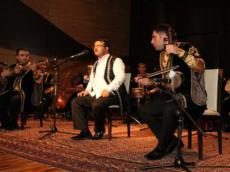 /AzerNews/
By Amina Nazarli
China's city Shanghai is hosting Shanghai World Music Festival-2014 from October 18 to 26.
Famous Azerbaijani Mugam and folk songs performer Gochag Askerov and his ensemble took part at this international festival of world ethnic and folk music.
All the city centers were decorated with posters titled "The prince of Azerbaijani Mugam" in anticipation of Askerov's performance.
During the incredible three-day festival in several concert stages, they performed Azerbaijani Mugam and Tesnifs, including "Mahur", "Shur", "Bayati-Shiraz", and "Shushtar".
The ensemble composed of influential national art figures such as Shakhriyar Imanov (performer on tar), Elnur Mikailov (on kamancha) and Kamran Kerimov (on nagara).
With great pleasure, UNESCO's representative and musicologist Sanube Bagirova gave information about the history of Mugam, Azerbaijan's national music.
After presenting the visitors with unbelievable performance, the ensemble received some invitations from influential organizations to participate in international festivals.
World music is an art that transcends peoples and cultures. It is formed outside the Western Classical tradition, from the essence of various musical forms around the world, forged from the spirit of traditional music, the context of the folk music, and the zeitgeist of modern music and musical creativity.
It blends the traditions and compositions of various races and creeds around the world, and is an artistic microcosm which celebrates the diversity we have in our world. It also brings together the various intangible cultural heritage items of different parts of the world and introduces them to an audience that would not otherwise know them.
Azerbaijani Mugham, a unique musical and poetic phenomenon, was created on the basis of historical and cultural traditions that have existed for centuries.
It is one of Azerbaijan's most valuable monuments of the material and spiritual culture and the greatest achievement of Azerbaijani people's musical and poetic art.
The artistic value of Azerbaijani Mugham and its high importance both for the national culture and the world community have been universally recognized at the international level: in 2003 UNESCO recognized the Azerbaijani Mugham as a masterpiece of the Oral and Intangible Heritage of Humanity.