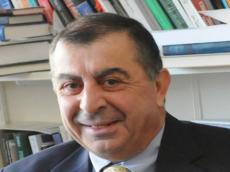 /AzerNews/
By Sara Rajabova
Sanctions by the international community imposed on Iran have failed to stem the Islamic Republic's economic growth according to Iranian officials.
New figures released by Iran's Central Bank in September indicated that the economy grew 4.6 percent in the first quarter of the current Iranian calendar year (started March 21, 2014).
Reports by the International Monetary Fund included positive predictions regarding Iran's economic growth rate. New projections released by IMF in its World Economic Outlook say Iran's economy will grow 1.5 percent this year, followed by 2.3 percent in 2015.
Iranian President Hassan Rouhani said Iran's economy is getting out of recession. Some experts relate it to the change of power in Iran, while others say it was possible due to the sanctions relief following the nuclear talks between Iran and six world powers.
However, some are still skeptic about regarding real figures, due the lack of transparency in data collection procedures.
Kamran Dadkhah, a professor of economics at U.S. Northeastern University told AzerNews that regarding Rouhani's statement, two issues need to be mentioned.
"First, there are many people who are skeptical about these figures. Distrust of Iran's statistics has its roots in the behavior of government officials in the past 35 years as well as lack of transparency in data collection procedures. Government officials have frequently made up numbers to justify their actions and to cover up the dismal state of the Iranian economy and society," Dadkhah said.
He went on to note that, the statistical procedures employed by different organizations are neither clear nor open to discussion. "This state of affairs became worse during the presidency of Mahmoud Ahmadinejad. Some government agencies stopped publishing statistics and Ahmadinejad and his cottiers felt they can make up any number they liked and throw then it in. It is important for the Iranian government to rectify this situation and over time build confidence in government statistics."
Dadkhah noted that even accepting government data and Rouhani's statement, the Iranian economy is still in a dismal condition.
Rouhani said the country's inflation will fall below 20 percent by the end of the current Iranian calendar year. He vowed to decrease the inflation rate to 5 percent till 2017.
"According to Rouhani, the rate of inflation has slowed down. Still Iran has one of the highest inflation rates in the world. While many countries aim at inflation rates of two or three percent how can Iran consider a 20 percent inflation rate as a victory? As far as growth is concerned Iran has had negative growth rates for two years and a growth rate of 2-3 percent would not make up for the decline of the previous two years. But more important, given Iran's potentials in terms of resources, educated labor force, and its strategic position, the Iranian economy should be one of top economies of the world. At present it is in a devastating state and touting a meager growth rate as an achievement is unacceptable for someone who has labeled his administration, the government of hope and wisdom," Dadkhah pointed out.
He added that Rouhani's government has not implemented any significant policy to get the Iranian economy out of its dismal state. "So the skeptics wonder how the recession ended and inflation was controlled when no significant economic policy has gone into effect."
Dadkhah noted that, however, the Geneva agreement, inked last November between six world powers and Iran, changed the expectations, released some of the oil money that had been blocked in foreign banks, and also eased sanctions on petrochemical and car industries. He said the combination of these factors has had a positive effect on the economy.
As part of sanctions relief under Geneva deal, Iran earlier got $4.2 billion frozen oil revenue kept in banks abroad. In addition, Tehran will receive $2.8 billion assets over the four months of the deal's extension since July.
Dadkhah further said if a nuclear deal is reached and sanctions are lifted, there is a distinct possibility that the Iranian economy will experience a considerable growth.
"The Iranian economy has fallen behind in terms of investment and introduction of modern technology. This is most troublesome in the oil sector. Many European and American companies are eager to invest in Iran. The prerequisites are lifting of sanctions, curtailing economic activities of the Iranian government and affiliated organizations particularly the Revolutionary Guard, and ensuring the security of private property and capital," Dadkhah said.
After an interim deal between Iran and six world powers, foreign companies voiced their intention to resume activity in Iran, especially in the energy sector.In late 2013, Iran named seven Western oil companies it wanted back in its vast oil and gas fields if international sanctions are lifted.Zanganeh named the seven in order: Total of France, Royal Dutch Shell, Italy's ENI, Norway's Statoil, Britain's BP and U.S. companies Exxon Mobil and ConocoPhillips.
Dadkhah further noted that the Iranian government should also be prepared to confront two negative factors. "First, the recent fighting in the Middle East could easily reach the Iranian border and affect the economy. Second, the recent sharp drop in the price of oil would reduce the government revenues and resources. So the lifting of sanctions may not bring the expected amount of revenue."
"By the end of Ahmadinejad's presidency, the liquidity (money supply in broad sense or M2) in the Iranian economy was more than six times what it had been at the beginning of his presidency. Thus, the government has to limit its budget deficit and refrain from borrowing from the central bank. On the other hand, while legitimate businesses and investors should have access to reasonable credit, the lavish extension of credit to individuals close to the centers of power (rent seekers) and to government organizations which have no business being engaged in economic activities should be stopped or at least curtailed," Dadkhah said.
The inflation rate in Iran in 2005, when Ahmadinejad took office was about 10.4 percent, but in mid-2013, when he handed over the office to Rouhani, the inflation rate and point-to-point inflation rate were 37.5 percent and 44 percent, respectively.