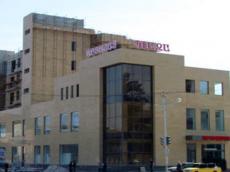 /AzerNews/
By Mushvig Mehdiyev
An Armenian high-ranking statesman's son is rolling the sleeves up to open a large shopping center in the country.

Argam Abrahamyan, son of Armenian Prime Minister Hovik Abrahamyan, is counting the days to cut the red ribbon of the largest shopping plaza in Artashat town on October 30.

The town, with a population of around 25,000 is the capital of Armenia's Ararat province and lies 30 kilometers south of Yerevan.

The new double storey shopping center owned by Abrahamyan Jr. will offer a variety of clothing and other goods to the customers. The modern shopping mall will reportedly pose a threat to the traditional business owners in Artashat.

Analysts say the comparative high prices at the shopping plaza will not benefit the local people on the background of low purchasing power in Armenia. As a result, the small merchants and residents will feel the adverse results as soon as the new trade center opens.

Abrahamyan Jr. is preparing to open the shopping center in the complicated business atmosphere in the country. Small and medium business owners in Armenia are currently in a tough situation after the new turnover tax that came into force on October 1. Their business entered a hard period as the new law demands the submission of certain documents and sets a penalty in case of a submission failure.

The shopkeepers gathered to protest against the new law and meet with the prime minister. The PM Abrahamyan received the outraged vendors and vowed to settle their problem. He promised to support the small and medium businesses in Armenia, but his son's new shopping venture has started to disturb the local merchants. They claimed that the new center will drive them out of business as they are absolutely unable to compete with it.

On the other hand, the shopping center's opening is not good news for the small and medium businessmen in Armenia considering the economic crisis and widespread unemployment. A member of the high-profile state official's family is making his own business by inflicting a blow to the small businessmen in the ex-Soviet country. It will reportedly contribute to the increase of around 600,000 unemployed as the vendors fear to lose their biz.