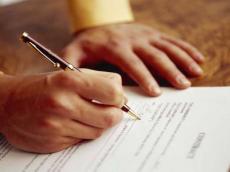 /AzerNews/
By Amina Nazarli
Employment contract is the most fundamental measure to protect employees' rights and interests.
Many employers worldwide build an employment relationship without any labor contract, thinking they have all privileges over employees. By violating the labor legislation, the employer evades from paying taxes and violates his/her elementary rights. The situation deteriorates impeding economic development.
Electronic data system will enable the Azerbaijani government to stop violations in the labor market.
Over 1.4 million employment contracts have already been registered in an e-system, which was set up on July 1, 2014 and it is now in the final stage.
Employers, who do not register their employees' contracts in the e-system will be fined in accordance with law. Information about the hiring must be published in the system on the same day.
The government has carried out essential works over the past few years to bring an order to the labor market.
"Recently the Labor Inspectorate started to evaluate accuracy of employment contracts' registration," Top Labor Inspector Fuad Alizade said earlier.
As many as 14,700 cases of legislative violations were stopped in Azerbaijan in January to September, 2014, he stressed.
The State Labor Inspectorate Service fined the employers who broke the law in the amount of 3.44 million manat over the first nine months of 2014, or by 7.3 times higher than the previous year.
The transfers to the public budget made up roughly 41.1 percent of total remittances in the amount of 1.4 million manat, which exceeded last year's figure by 23.6 times.
The service revealed 6,420 illegal employees and achieved signing of labor contracts with them in this period.
The inspections also revealed the tardy payments in the amount of 418,207 manat. Some 92.2 percent of a total sum accounted for the wage fund.
This index increased by 19.1 percent as compared to previous year.