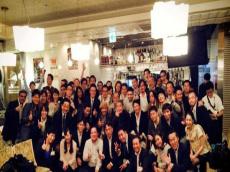 A meeting organized by the Cross Border Club and WorldInvesters internet TV featured the results of the visit of a group of Japanese businessmen to Azerbaijan.
Speaking at the event, producer of WorldInvesters TV, Kazuyasu Ishida told of the latest processes in the world economy, complex economic situation. He noted that some countries managed to use the existing economic potential to escape the impact of the crisis and achieve the growth of the GDP. He named Azerbaijan as one of these countries. He touched upon huge projects implemented in the country for the past 10 years.
Famous expert said that Azerbaijan's economic forecast is very positive and the country achieved great successes in the past 15 years. He dwelled upon the working visit of a group of Japanese businessmen to Azerbaijan on October 9-12.
The businessmen shared their impressions on their trip to Azerbaijan.
The representative of the Azerbaijani Embassy in Japan provided information about the economic successes of the country, investment climate, adding the country is keen on cooperating with Japanese companies.
/AzerTAc/