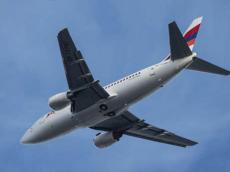 By Mushvig Mehdiyev
Armenian national air carrier Air Armenia has been forced to cancel some flights after a financial hassle with the Dubai-based company.
Air Armenia canceled four flights to Saint Petersburg and two flights to Moscow and Athens on Monday. The reason behind that massive cancellations is the financial problems, local media reported.
Rampant economic crisis in Armenia has hampered the activities of the country's national air carrier, as it could not pay about $5 million for two airplanes it had purchased earlier from the Dubai-based company.
Former cargo operator, Air Armenia, began to launch passenger flights to fill the void left after the collapse of Armenia's national carrier Armavia in August, 2013. The carrier has taken its first steps in passenger carrying after ten years of freight services.
Now Air Armenia is likely to suffer from the same problems which collapsed the decadent Armavia. Local media wrote that the Dubai-based company, which entered into a business partnership with Armenian air carrier, later took the aircrafts back. It subsequently forced Air Armenia to reschedule its flights
Armenia is currently under tough pressure from a deepening economic crisis, which has inflicted many fields in the former Soviet country, including financial, banking, real estate, employment, entrepreneurship and other sectors. Official statistical data and reports by various international organizations underlined Armenia's continuous downgrade mainly fuelled by the economic slump. Day-by-day increasing outflow in the post-Soviet country of nearly 3 million people is reportedly caused by the crisis.
Air Armenia now pins its hope only on one aircraft to continue its services. The government is desperately looking for ways to escape the rigid financial hassle. Head of the State Civil Aviation Department Artyom Movsisyan convened a meeting to address the problem and seek for a resolution. Representative of the Dubai company has reportedly attended the meeting together with Air Armenia officials.
Armenia's collapsed air carrier Armavia Airlines filed for bankruptcy and ceased its service from April 1, 2013. The airline said it was weak to cope with the 2008 world economic crisis and the results of the crisis led to its crash.
Flights to Russia and Ukraine constituted nearly half of the Armavia network. The company used to launch flights to Europe, Middle East and North Africa.
/AzerNews/