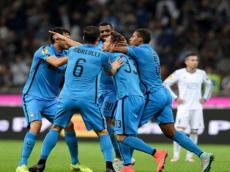 By Mushvig Mehdiyev
Azerbaijan's Qarabag football club has lost the game with Italy's FC Internazionale at the group stage of the Europa League.
Qarabag FC had its second game in the Giuseppe Meazza stadium of Milan, Italy on October 2.
The two teams aimed to win and bag 3 points to better their position in the group, whilst Azerbaijan's only representative at the Europe's second most influential football contest was not successful.
Qarabag FC with excellent attacking game finally disappointed its fans not scoring a goal. Club's Brazilian forward Reynaldo missed several chances to find the net. Instead, FC Internazionale's defender Danilo D'Ambrosio scored the opener at the 18th minute of the match. Increasing pressure of the Italian giants ended up in the second goal by Mauro Icardi, within 5 minutes of the first goal.
Qarabag FC's efforts were unsuccessful to kick a goal to FC Internazionale and had to agree on 0:2 defeat.
Now Qarabag FC shares the third and fourth places with Ukraine's Dnipro Dnipropetrovsk, with 1 point each. FC Internazionale is the group leader with 6 points, while the French Saint Etienne is the group's second with 2 points.
Head coach of FC Gurban Gurbanov said in a post-match press-conference that his club has not lost the chances to succeed to the play-off stage. "I trust my players. We have a difficult game with Dnipro in Baku. As for Inter, it will not be easy for them in Baku, we promise an interesting and spectacular game," he added.
Qarabag FC will play its third game against the Ukrainian Dnipro Dnipropetrovsk on November 6 at Tofig Bahramov stadium in Baku.
/AzerNews/