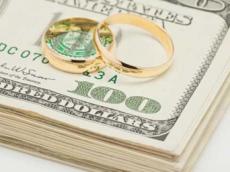 By AzerNews
Wedding day is the happiest day in everyone's life but the story is different for many Armenians.
In Armenia, parents of the couples who are going to form a family face financial difficulties to celebrate this day.
Complicated socio-economic situation in Armenia has forced the citizens to celebrate their wedding day on credit.
While planning for their children wedding, the Armenian parents mainly think about repayment of credits they receive.
Today, most Armenians hold their weeding at restaurants on credit, local media reported.
"The restaurants at the regions are in difficult situation. Their owners have a long list of debtors," media report noted.
The report further noted that for the owners of restaurants it is undesirable to organize weddings on credit.
"But, there is no other way because no client is left," the report underlined.
Not all young people in Armenia are able to celebrate their wedding even on credit, as their families financial situation is not stable due to high level of unemployment. Therefore, every third Armenian young men is single.
Furthermore, the minimum wage - $120- is insufficient for a normal life, as the minimum consumer basket is $135.
The 10 percent price hike in electricity tariffs to take effect as of August 1 will further deteriorate the financial situation of Armenian families.
The Armenian government still lacks a clear social-economic policy to cope with the deteriorating social situation in the country.