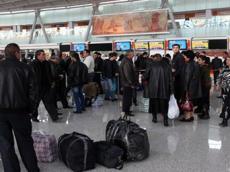 By AzerNews
Georgia with its expected visa-free regime with the European Union (EU) and simplified procedures for obtaining citizenship is turning into an attractive destination for migrants from neighboring Armenia.
Georgia will move to the second implementation phase of the action plan on visa liberalization with the EU in autumn 2014, Deputy Foreign Minister Tamar Beruchashvili said recently.
She said that Georgian citizens will probably be able to visit the EU states on visa-free regime by 2016.
Armenia is still not able to avoid mass immigration. From 2008 to 2013, immigration rate reached to 30,000-35,000 people per year. Russia is the main destination for the Armenian migrants. The main reasons behind the mass migration outflows include: the complicated socio-economic situation, high poverty, growing unemployment rate and absence of hope for a bright future.
Now, Russia's tightened conditions for the migrants will turn neighboring Georgia into more attractive country for the Armenian migrants.
The changes in the Russian migration legislation will deprive many Armenians from their source of income in the coming years. Russia banned entry to almost 50,000 Armenians within the subsequent three to five years, who stayed in Russia illegally. Furthermore, some 170,000 Armenian citizens face the risk of being deported from Russia.
The Armenian immigrants face some problems due to the revised Russian law on migration which has become effective since January 1, 2014.
The law states that the citizens of some former Soviet republics, including Armenia, have the right to stay in the territory of the Russian Federation without registration but only only 90 days in six months.
A visa-free regime between Georgia and the European Union (EU) by 2016 may lead to a new wave of emigration from Armenia, local media urged.
The EU has simplified its visa regime only for a certain group of the Armenian citizens - for journalists, sportsmen and other persons with certain professions, while the Georgian citizens will enjoy the visa-free regime with the EU member states in the near future.
Furthermore, Georgia recently has simplified obtaining Georgian citizenship by the citizens of the post-Soviet countries, which is an additional temptation for the Armenian migrants.
Georgia also will be attractive for the Armenian SME, as Georgia will implement positive economic reforms following its Association Agreement with the EU signed on June 27.
Armenia's business and investment environment is not attractive both for local and foreign investors. The Armenian business started to migrate to Georgia long ago, and many Armenian enterprises have been registered in Georgia.
Georgia, which unlike Armenia has chosen the European path of development has become very attractive for the Armenian citizens, and businesses as well.