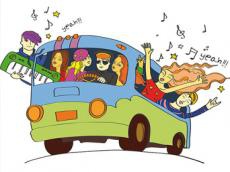 By AzerNews
Armenian government has found a smart way to make happy its nation on the background of upcoming waves of price hikes.
A joy-bus has appeared in the capital Yerevan since July 1 to spread joy among the people of the country where one third of citizens are living in poverty.
In the next three months, the bus will make a free daily route in the city centre. During the merry trip the passengers will play and listen to guitar music.
The free journey by the joy-bus will of course make happy Yerevan's inhabitants who hardly receive free services.
Some 37 percent of Armenians are unhappy in their life, Gallup International's rating for 2012 show.
The Armenians are suffering from complicated socio-economic problems. The hike in electricity tariffs which is expected to take place from August 1 will likely increase the prices of all goods and services. This will put the population under more pressure because they can hardly make both ends meet. The price increases will also instigate a new wave of emigration from Armenia.
The main reasons behind the mass migration outflows include: the complicated socio-economic situation, high poverty, growing unemployment rate and absence of hope for a bright future. The official rate of unemployment in Armenia is 16.8 percent which is the highest among the South Caucasus countries.
Measures like joy bus are aimed at pushing the Armenians to forget temporarily their daily unbearable difficulties. Yerevan's inhabitants will enjoy their life for the next three months but unfortunately, the happy life will come to an end soon as the joy-bus ends its route.