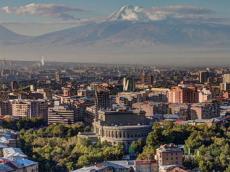 By AzerNews
Like his predecessor, Armenia's new Prime Minister expressed the need to combat monopolies and oligopolies in the country.
Armenia's small economy is suffering seriously from monopoly, and oligopolies rule about 60 percent of the shares in Armenia's market, the World Bank's report on "Republic of Armenia: Accumulation, Competition, Cooperation", published in November 2013, shows.
Local media believe that Ovik Abramyan's government can hardly achieve economic freedom, as lack of economic freedom is the main basis of the present authorities' system.
Armenia is the 41st out of 187 countries in the 2014 Index of Economic Freedom, the Heritage Foundation reported. Armenia also ranked 38th out of 177 countries in the index last year.
Armenia's economy score dropped by 0.5 points compared to 2013, reaching 68.9 score. The Heritage Foundation experts say the decline is due to the deteriorated indicators of investment freedom, entrepreneurship freedom, and financial freedom
Countries that have taken up the 41st place are already considered regressive. Thus, it can be said that former Prime Minister Tigran Sargsyan led to perceptible regress in the economy during his tenure.
Local media have reported that Armenian authorities can provide economic freedom only by conducting free elections. "They should be ready to desert their posts for this. If they are not ready for this, they will never be ready for fundamental reforms," media reports say.
Armenia's macroeconomic indicators continue to drop, official statistics for the first quarter of 2014 confirmed.
Economic growth was 3.6 percent during the reported period and 3.3 percent in March. Thus, Armenia has achieved 0.3 percent of economic growth in a month.
Armenia also faces decline in industrial production (1.4 percent) and electricity generation (1.5 percent).
Armenia's foreign turnover has not grown insignificantly. The indicator increased only by 1.6 percent.
With President Serzh Sargsyan, who will rule Armenia till 2018, and oligarch PM Ovik Abramyan, Armenia is doomed to non-free economic situation for subsequent years.