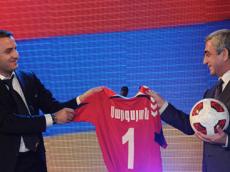 By AzerNews
Armenia is not known as a football lover country, but its authorities can professionally play this game. The prime minister, as well as the president are the main passing players in the authorities' football team.
Dozens of Armenian families, who have been homeless over the past ten years, have turned into 'a soccer ball' for the authorities. The government and the president very often give the runaround to the citizens, who are in the search of justice.
Tens of families are still desperate and hopeless in resolving their accommodation problems even after the recent protests in front of President Serzh Sargsyan's mansion on May 12.
The residents of the Yerevan's Buzanda Street became homeless after they signed an agreement with a company to get new flats in new buildings. Despite the agreement the families could not move to the new flats, and their houses were resold to the third persons.
Now they have lost their final hope for resolving their problems as Sargysyan does not listen to his citizens and refer them to Prime Minister Ovik Abramyan.
"Go to Ovik, he will listen to you," the president said.
The cheated owners of the flats gathered before Sargsyan's mansion, saying "We are on the streets for 10 years. Receive us as a citizen."
"Only you can solve our problems, as we have already gone to him, but he did not solve the problem," the protesters told the president.
To give run-around the complainants, who demand justice has become a favorite method for the Armenian authorities in solving the problems.
Vice President of Heritage Party Armen Martirosyan believes that the new government is not interested in solving the citizens' problems.
"The new government is the oligarchs' government, which was established just to solve the authorities' definite problems," he said.
Martirosyan said Prime Minister Ovik Abramyan even does not pretend that he is implementing the reforms.
"Abramyan has combined business with politics. He protects only the big businessmen interests. When he was a parliamentary speaker he destroyed the small and medium enterprises," he stressed.