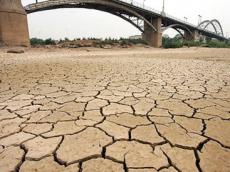 By AzerNews
Water, the most precious of resources on the planet, is becoming even more precious than ever, its price exceeding that of oil today.
Experts predict that countries haggling over water rights and struggling for reliable energy resources in the future will be forced to fight for access to water.
And the future is not so far away.
The issue of access to water has reached dangerous levels in a number of countries across the globe. Many countries are taking decisive measures in order to address the problem.
Iran, located in an arid zone, is one of those countries facing severe water problems, such as severe droughts which have plagued the country over the last 40 years.
The drought of 1992-2002 caused a major blow to agriculture. There were quotas imposed for fresh water in several cities, including Tehran.
In order to show the seriousness of the problem, it is enough to refer to the statement of Iran's former agriculture minister.
Former Minister Issa Kalantari told Ghanoon newspaper last year that Iran's water crisis is more of a threat to the country than "Israel, America or political infighting" among Iran's political classes.
Kalantari went on to say that if the water issue is not addressed, Iran could become a place where no one can live.
Recently, Iranian Energy Minister Hamid Chitchian once again warned about the water shortage crisis in the country, saying the situation of water resources in Iran has passed beyond the critical condition.
Chitchian went on to note that during the past decade, precipitations in Iran have declined from 250 millimeters to 242 millimeters.
Iran's Energy Ministry has formed a special committee a couple of months ago to monitor the water crisis and take appropriate decisions.
"At present, 96 billion cubic meters of the country's total 120 billion cubic meters of renewable water resources is being consumed annually," Chitchian said, adding that if 40-60 percent of renewable water resources is consumed in any country, that country is said to be in a critical condition.
A drought has being observed in the country for nearly 13 years. Besides, the demand for water increases with population growth.
The water shortage has reached a critical level in Tehran, Tabriz, Isfahan, Khuzestan, Qum, Mashhad and Hamadan provinces.
The officials also warn about water shortage problem in Iran's capital city Tehran, saying if residents of Tehran and nearby provinces do not reduce their consumption then the city will face great difficulties in that regard.
Officials say if water consumption is not cut back they will consider options such as scheduling water outages for high consuming households, and lowering water pressure in Tehran's pipeline network that serves an estimated 22 million people.
Meanwhile, Tehran is not only city facing a water crisis, as 500 cities in Iran are facing similar issues.
The crisis is also affecting Iran's lakes and rivers. Rivers in central Iran near Isfahan and Ahvaz close to the Gulf have dried up. Hamoun Lake near the Afghan border is now a dustbowl.
Lake Urmia, one of the largest salt-water lakes in the world has dropped about 200-meters, and winds blowing dry salt from the lake bed could contaminate nearby agriculture, threatening the livelihoods of an estimated three million people who live nearby.
Over 70 percent of Lake Urmia's water has dried up. The level of the water has been declining since 1995. Experts on environmental issues say that the measures taken by the Iranian government are not enough to save the lake.
UN officials say dust from dried up rivers and lakes is already contributing to air pollution levels in Iranian cities, four of which are classified belonging to the 10 most polluted cities in the world.
Back in 2013, faced with a critical shortage of water, the Iranian government called for water conservation and greater water use efficiency nation-wide. Despite imminent shortages, water use in Iran remains inefficient, with domestic use 70 per cent higher than the global average.
The UN Development Program said the level of Iran's per capita water resources is predicted to fall to as little as 816m³ in 2025, down from 2,025m³ in 1990.
Iran has a national population of 75 million people, 12 million of whom reside in the capital; demand for water is rapidly increasing, even as major lakes and groundwater resources begin to shrink.
The water crisis could also lead to the social unrest in the country.
Hundreds of farmers in Isfahan province destroyed a pipeline in clashes with police that was carrying water away from a nearby river to the town of Yazd. As a result, the city of Yazd reportedly began rationing water.
Experts blame population growth, climate change, desertification, poor water management and Iran's propensity to build dams for severing the water shortage problem in the country.