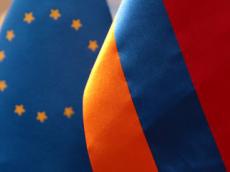 By AzerNews
The European Union and Armenia should be creative and decisive in the building of bilateral relations.
Member of the European Parliament, Deputy Chairman of the EU-Armenia Friendship Group Frank Engel made the remark in Yerevan. "Armenia must concretize its position, as we are in difficult situation," he added.
Engel said the EU is seeking to restart relations with Armenia, which is at the finish line to join the Russia-led Customs Union (CU).
"We must return to the initial stages of the Armenia-EU talks and start from the beginning," he said.
However, President Serzh Sargsyan affirmed Engel that there have been no changes in the foreign-policy agenda of Armenia.
"The European Union was and remains one of Armenia's important partners and cooperation between Armenia and the EU is based first of all on a common value system," Sargsyan said at the meeting with Engel.
Joining to the CU is the main priority of the Armenian government. This priority has led the government to cancel an earlier decision to sign the Association Agreement with the EU in November 2013. The EU regretted Armenia's decision, which has strained relations between the sides.
Armenia's Economy Ministry reported that the country may join the Russia-led Eurasian Economic Union (EEU) at once.
Local economists believe that Armenia's problems will be doubled after the country's entrance to the EEU.
"The Customs Union already will put in trouble the Armenian economy and ordinary citizens," they consider. "The Russia-led Eurasian Economic Union will double these problems."
The future of the EU-Armenia relations seems in indefinite situation due to Armenia's choice in favor of CU.
Armenia's citizens are more decisive than the authorities. Some 55 percent of Armenian respondents support the country's membership in the Eurasian Economic Union, while 41 percent of respondents support Armenia's EU integration, the Caucasus Research Resource Center's recent survey show.