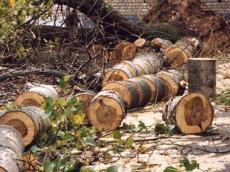 By AzerNews

US ex-President Frankling D. Roosvelt says: "Forests are the lungs of our land, purifying the air and giving fresh strength to our people."
With the environmental policies of Armenian government, it seems the capital Yerevan is left without lungs today. The city is empty of its songbirds which have been replaced with crows.
As part of its environment policies, Armenian government has sold the green areas of Yerevan to a small group of oligarchy who have built medieval palaces with thick walls like Great Wall of China.
The ecologists have already sounded the alarms about Yerevan environment. They say, the city is on the threshold of an ecological catastrophe due to lack of the authorities' political will to preserve it.
Ecologist Karine Danielyan, criticizing the urban policies of Armenian government say Yerevan is facing a serious environmental risk. "Yerevan is in dire need of young trees which can provide the city with fresh air. But only some small bushes have been left," she said.
Furthermore, the government either sells or destroys the historical buildings, putting Yerevan's cultural-historical heritage in jeopardy.
Yerevan's famous covered market has lost the chance to be included in UNESCO's heritage list due to "rebuilding" process of it by oligarch and Member of Parliament Samvel Aleksanyan.
Before the rebuilding of the monument, it was widely known as a historical monument. Rebuilding of the covered market sparked outrages across the country and faced public resistance. The city authorities assured people that there will be no damages to the historic identity of the market. Today, only a facade of the market remains.
Huge amount of dust is another challenge for the capital city.
"The Palace of Youth was destroyed some years ago and turned into a stone quarry. This has left the city with a huge amount of dust," she said.
Green areas are destroyed not only by oligarchs but also ordinary people who cut trees to heat their home.
Local ecologists warn that high gas tariffs have led to growing deforestation which needs to be stopped in the next couple of years.
"Armenia is facing with increased illegal logging. Some 2,013 trees were illegally cut in 2013, higher than 2012 which stood at 1,860," the Ministry of Territorial Administration reported.
According to researches, the level of air pollution in Yerevan has exceeded the normal level.
The reduction of green areas is viewed as the main reason of the high pollution.
Local ecologists said Yerevan is divided into two parts: the north which suffers from the increased level of dust, and the south which suffers from increased level of heavy metals.
The ecologists link air pollution with the ill environment policies of the government.
Poor ecological state of Yerevan resulted from the government's environmental policies reminds of Roosevelt's famous saying that: "Trees are the lungs of the planet: who destroys them destroys themselves."