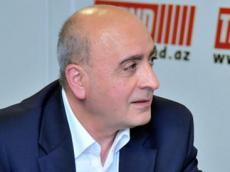 Improvement of relations with Iran is an important issue in Azerbaijan's policy, Azerbaijani political analyst and parliament member, Rasim Musabeyov said.
Musabeyov made the remarks at a meeting with youth representatives as part of the Winter University for Young Leaders, organized by the 'Ireli' Public Union.
He said that any problems with Turkey are solved pretty quickly, but with Iran, things are different. Therefore, Azerbaijan and Iran should raise relations to a higher level.
"Currently, Russia's military power is not taken seriously by Turkey and Iran. Thus in the Black Sea, the Turkish fleet is many times stronger than the Russian fleet. In the 19th and 20th centuries there were many Russians in the South Caucasus, but now they make up only one percent. In general Russia's economic and military leverage in the region are weakening," Musabeyov said.
He added that the trade turnover stands at a relatively low level and Russian military contingents are only situated in Abkhazia, South Ossetia and Armenia. As the Russia's role in the region is weakening, Turkey and Iran are strengthening.
The MP also said that two-thirds of the South Caucasus' population are Azerbaijanis. And extensive development prospects and opportunities have emerged in the recent years as a result of Azerbaijan's correct policy.

/Trend/