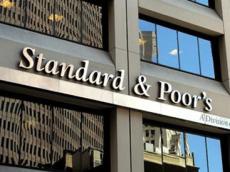 By AzerNews
The Standard & Poor's Ratings Services (S&P) has affirmed its 'BBB-/A-3' long- and short-term
sovereign credit ratings for Azerbaijan with a stable outlook.
The S&P reported on January 31 that the 'stable' outlook reflects the agency's view that the development of large oil and gas fields in Azerbaijan will support economic growth, but will not provide as high a budget surplus, as happened in previous years.
The agency's analysts noted Azerbaijan maintains a strong net general government and external asset positions.
The S&P also noted these assets continue to provide substantial buffers against potential shocks.
"The country's ratings may be raised if Azerbaijan's net external asset position were supported by a significant improvement in the macroeconomic environment, an acceleration of institutional reforms that enhanced policymaking predictability and transparency, or a strengthening of monetary policy and the banking system," according to the message.
The agency estimates an economic growth at around 5.8 percent in 2013, the fastest pace of expansion since 2009.
"While the oil sector is just emerging from a recession, public spending especially on infrastructure, is contributing to higher growth rates in the non-oil sector. We expect GDP growth to average about four percent in the medium term, equivalent to long term GDP per capita growth of 3.6 percent. This is in line with peers," the agency's analysts said.
The real GDP growth in Azerbaijan amounted to 5.8 percent, the non-oil sector increased by 9.8 percent. The country's GDP in 2013 increased up to 57 billion manats.
The European Bank for Reconstruction and Development (EBRD) has predicted Azerbaijan's gross domestic product (GDP) will be 3.5 percent in 2014, unchanged compared to 2013.
The World Bank predicts Azerbaijan's economic growth at 5.3 percent, and the potential GDP growth-at 6.6 percent while the Azerbaijani government forecasts the GDP growth at 4.7 percent in 2014.
The S&P also believes the annual volume of oil production will be at approximately the same level until 2017, but the growing volume of gas production will support the economic growth.
"We expect the development of the Shah Deniz II gas fields to remain on track for 2018 now that the SOCAR-led (State Oil Company of Azerbaijan Republic) consortium has chosen the Trans-Adriatic Pipeline as the connecting grid to the Trans-Anatolian Pipeline, the latter being the initial carrier of Azerbaijani gas toward Europe".
The agency's analysts believe that capital expenditures remain high at about 40 percent of total expenditure.
"In our view, this provides a large degree of fiscal flexibility in the event of a financial shock to the economy," the S&P said.