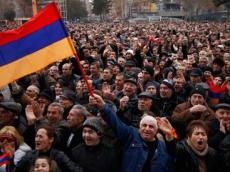 By AzerNews
Social uprising in Armenia is quite predictable and January 18 rally can lay the basis for it.
Armenian Civil Initiative "I protest" with the four opposition parliament fractions will hold a rally on this day against the introduction of mandatory funded pension system, which came into force since January 1, 2014.
Armenian ruling party in turn believes that no riot can solve social and economic problems.
"The economy is not growing with riots, it is growing with painstaking job," said MP from ruling party Manvel Badeyan.
So, Armenian ruling party recognizes that country's economy is poor and there is no condition for its development, but at the same time blames the Armenian people in economic decline in the country.
"The state should do everything possible to develop economy, and create the necessary conditions for this," he stressed. "We must do everything possible to develop economy and national welfare".
Badeyan accused people in their poor living conditions saying that "people must work to have more money".
Armenian political experts said there is a great probability for social revolt in the country, considering the cold winter, high gas and electricity prices and increasing consumer prices.
People, who meet every morning with pleasant surprises, including suspension of unemployment debts, mandatory funded pension system, as well as prospective hike in gas and electricity prices, have now faced a new problem: they are blaimed in all failures of the government. What will be a reply of the accused people? Tomorrow's rally will show!