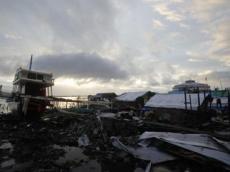 Natural catastrophes like floods and storms claimed more than 20,000 lives and caused around $125 billion in damage worldwide in 2013, well below the average of the last decade, reinsurer Munich Re said on Tuesday.
The world's largest reinsurer said Supertyphoon Haiyan, which struck the Philippines, China and Vietnam in November, was probably the strongest tropical storm ever to make landfall and was last year's deadliest natural event.
The storm killed more than 6,000 people and underscored the need for better planning to protect people in emerging countries, Munich Re said in its annual review of natural catastrophes.
In contrast, planning and preparation helped limit the impact of winter storms in Europe at the end of last year.
"The losses remained comparatively low," said Torsten Jeworrek, Munich Re's board member in charge of reinsurance.
Flooding in central Europe in May and June topped the list of global economic damage last year at more than $15 billion, with the insurance industry paying out $3 billion in claims.
The most costly event for insurers last year was a set of hailstorms that struck southern Germany in July, damaging hundreds of thousands of cars and buildings and prompting $3.7 billion in insurance payouts.
Both the $125 billion global economic damage caused by natural catastrophes last year and the $31 billion in claims paid by insurers were below the average of the last 10 years of $184 billion and $56 billion, respectively, Munich Re said.
The number of deaths worldwide was also below the 106,000 seen on average over the last 10 years.
The insurance industry benefited from the lowest number of hurricanes in the North Atlantic since 1982, with not a single storm of hurricane strength reaching the U.S. mainland.
Munich Re said the below average number of storms was due to unpredictable short-term effects and that the expectation of higher hurricane activity in the future remained unchanged.
The absence of big payouts for hurricanes is helping to erode resinsurers' pricing power, as insurance company clients push for cheaper terms in 2014.
Munich Re said separately that the Arctic air currently blasting the United States, forcing businesses and schools to close and cancelling thousands of flights, had the potential to cause billions of dollars in damage but that it was too early for estimates.
The reinsurer's figures on the scale of natural disasters in 2013 chimed with those from rival Swiss Re, which last month estimated that insurance industry damage claims from natural disasters totalled $38 billion, down from $75 billion in 2012.

/Reuters/