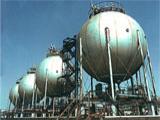 Iranian Deputy Oil Minister Javad Owji has announced the inauguration of the country's first underground natural gas storage facility in the province of Qom, Press TV reported.
"We predict that during the first phase of the project we will inject between five and seven million cubic meters of natural gas a day in the first six months [of the year] and will extract between seven and ten million cubic meters during the final months of the year," Owji was quoted by Mehr News Agency on Sunday.
The Qom reservoir, which is located in the Sarajeh region, has the capacity to store 3.3 billion cubic meters of natural gas a year.
Natural gas reservoirs are meant to store excess gas during low-demand periods and to be withdrawn during periods of peak demand periods of the year.
In addition to offsetting the seasonal variation in demand, storing natural gas provides a temporary insurance against any form of interruption in the supply network.
The United States and Russia store the most amount of natural gas in the world with a current estimated stockpile of 110 and 90 billion cubic meters respectively.
/
Trend
/