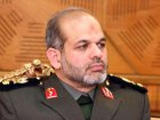 Iranian Defense Minister Brigadier General Ahmad Vahidi says the ministry plans to build large destroyers and ocean liners to beef up the country's defenses, PRESS TV reported.
In his visit to Isfahan's Polytechnic University on Saturday, Vahidi said designing and building ocean liners is on the agenda of the Defense Ministry.
Vahidi said Iran also plans to build research ocean liners, adding that "this project has just begun and a date cannot be announced for its implementation," Mehr news agency reported.
Since the victory of the 1979 Islamic Revolution in Iran, the country has embarked on a campaign for self-sufficiency in the defense industry and launched numerous military projects.
Last year in February, the Iranian Navy unveiled its first domestically-manufactured destroyer, Jamaran, in the waters of the Persian Gulf.
The 1,420-ton destroyer, equipped with modern radars and other electronic warfare capabilities, patrols the southern waters of the Persian Gulf.
In January, Iran successfully test-fired the mid-range, surface-to-air Hawk missile, and the Iranian Defense Ministry delivered new cruise missile systems to the Navy.
The systems, designed and manufactured by Iranian experts, are capable of spotting and destroying different targets at sea.
/
Trend
/