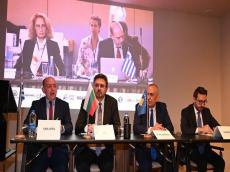 The Association of Balkan News Agency – Southeastern Europe (ABNA-SE) held its General Assembly in Thessaloniki, Azernews reports via the Bulgarian News Agency (BTA).
The BTA was represented at the forum by Director General Kiril Valchev.
The general meeting took place on the last day the ABNA-SE Conference on "The role of news information in the new Balkan reality", organised by the Athens-Macedonian News Agency (ANA-MPA).
The general assembly reached a series of decisions regarding the operation as well as the further development of ABNA-SE, which as of today numbers 12 members following the addition by unanimous consent of the Italian news agency ANSA, reports ANA-MPA.
ANSA joins the 11 founder members, which include the ANA (Greece), Anadolu Ajansi (Türkiye), Agerpres (Romania), ATA (Albania), BTA (Bulgaria), FENA (Bosnia-Herzegovina), HINA (Croatia), KYPE (Cyprus), KOSOVAPRESS (Kosovo), MIA (North Macedonia) and MINA (Montenegro).
Starting the assembly, the president and general director of ANA-MPA Aimilios Perkidaris welcomed the participants to Thessaloniki: "We have proved that if we work together for a common goal, the strengthening of the action of our union, we can achieve many things. Starting from Thessaloniki, the conference we organized in the preceding days but also with today's general assembly, we laid strong foundations in order to further develop ABNA-SE."
Anadolu Agency Director-General Serdar Karagoz said that the next ABNA-SE General Assembly will be held in Istanbul in 2024. The cooperation under ABNA-SE's auspices can lead to the creation of a bridge between peoples and countries. Lately, particularly after the earthquake disaster in Türkiye of February 6, we are witnessing a softening in the diplomacy between Türkiye and Greece, he noted. Greece, too, was hit by a tragedy with the train crash. These two disasters actually brought the two countries closer, Karagoz said.
BTA Director General and ABNA-SE Secretary General Kiril Valchev said that Moldova's MOLDPRESS has applied for membership in ABNA-SE. He recalled that ABNA-SE has existed for 30 years but until recently functioned as a club of close friends.
The ANA-MPA term of presidency of ABNA-SE will conclude in September, when it will hand over the presidency to Anadolu.
At the previous General Assembly, which took place in the Bulgarian Black Sea city of Burgas in September 2022, a decision was taken for the official registration of ABNA-SE and it took place in October the same year. Since then, its permanent seat is in Bulgaria and the Secretary General of the organisation is BTA Director General Valchev.