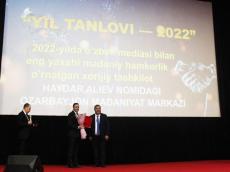 The Heydar Aliyev Cultural Center in Tashkent has been named the most active center in Uzbekistan, Azernews reports.
Director of the Heydar Aliyev Cultural Center in Tashkent Samir Abbasov was awarded a diploma as the center won in the nomination "The Most Active Cultural Center of the Year" among foreign organizations operating in Uzbekistan.
The decision was made in accordance with the results of the online survey among media representatives, cultural, public, and art figures.
The public opinion poll determined the results of the traditional contest "Choice of the Year 2022" among state and non-governmental organizations that are actively working in the country and closely cooperating with the press and civil society, achieving transparency in their activities.
The award ceremony took place at Alisher Navoi Cinema Palace in Tashkent.
Diplomas and awards were presented to the winners in the nominations "The Most Active Embassy of the Year" (Turkiye), "Media leader of the year", "The Most Active Deputy", etc.
The results of the annual survey arouse great public interest.
The Heydar Aliyev Cultural Center in Tashkent plays a special role in the Azerbaijani-Uzbek relations in the field of culture, science, education, and tourism.
The center was opened on September 27, 2010, with the participation of Azerbaijani President Ilham Aliyev.
Since then, the cultural center has successfully implemented a number of projects, aimed at strengthening the ties between the two countries.