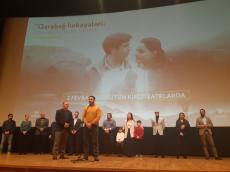 Laman Ismayilova 


The Nizami Cinema Center premiered a film almanac Karabakh stories: "Yesterday, today, tomorrow," Azernews reports.
The film almanac includes three short films-You have a letter (Siz? m?ktub var), Rear ( Arxa c?bh?), and Fence (Hasar), produced as part of the "Great Return" film projects competition.
Since February 2, these short films are being screened at Park Cinema, CinemaPlus, and Nizami Cinema Center.
The name of the film almanac Karabakh stories: "Yesterday, today, tomorrow" and all three films reflect the events of different periods of time. The events in the short film "You have a letter" are taking place in the 1990s of the last century during the First Karabakh War. The film "Rear" touches on the Second Karabakh War, while the short film "Fence" tells about the national heroes, who live in the post-war period.
In the almanacs, the films are included in this sequence - recalling the events of the past, transferring them to the present, and then providing an opportunity to reflect on the future.
"You have a letter"
The short film "You have a letter" was produced by AzerbaijanFilm Studio. The film director and scriptwriter is Mazahir Gasimov. Ali Aliyev and Daniz Tajaddin starred in the main roles.
You have a letter about young people - a girl, who sees off her best friend to the war. Only after that she finally faces her feelings, but it's too late.
"Rear"
Filmed by Karvan Production, the short film tells about a man, who goes to the front. His family remains in Barda. From time to time, he talks to his family on the phone. But one day this conversation is interrupted by a bomb explosion. The film director and scriptwriter is Gulay Babayeva. The cast includes Kamala Piriyeva and Niyaz Gasimov.
"Fence"
According to the plot of the film, Elchin lost his son during the first Karabakh war. After Azerbaijan's victory and the liberation of its lands, he returned to his native land. In order not to see his Armenian neighbor, he tries to restore the fence of the house. However, the disappearance of the neighbor's blind son disrupts his plans.
Filmed by Ultra Production, the film was directed by Gulu Asgarov, a scriptwriter of the film is Nijat Dadashov. Actors Vidadi Hasanov, Leyli Valiyeva, Nurlan Suleymanli, and Alibala Asgarov starred in the main roles.
All proceeds from the film screenings will be transferred to YASHAT Foundation.
Set up in 2020, the foundation covers the needs of disabled employees of state bodies (authorities) or family members of the employees, who lost their lives while participating in the elimination of the aftermath of the war.