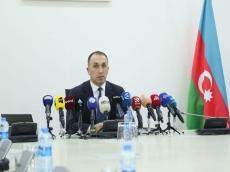 The Entrepreneurship Development Fund adopted new credit mechanisms for business entities in the liberated territories, Azernews reports referring to Osman Khaliyev, Chairman of the Board of Azerbaijan's Entrepreneurship Development Fund.
Speaking at a news conference on the results of 2022, the chairman said that the loan portfolio for the business entities amounted to AZN500m ($294m).
"Within the framework of this mechanism, we allocated AZN450m ($264.7m) for the state provision and AZN150m ($88m) for subsidies," the chairman noted.
The chairman stressed that the maximum amount of a concessional loan that can be issued to a business entity in Azerbaijan's Karabakh is AZN5m ($2.9 million).
"Some 90 percent of the issued loans can be guaranteed by the state, and the interest rate should not be higher than 15 percent," Khaliyev added.
Although established in 1992, the active period of the National Fund for Entrepreneurship Support commenced only in 2002. The main activities of the fund include providing concessional loans to business entities, preparing, implementing, and financing support programs for the development of entrepreneurship, studying the opportunities for entrepreneurs to access new markets and conveying accumulated international experience to entrepreneurs, conducting educational work, and providing them with consulting services.