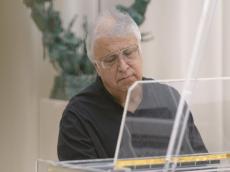 Renowned pianist, Baku Music Academy rector and People's Artist Farhad Badalbayli celebrates his 75th anniversary this year.
Farhad Badalbayli is a world-renowned pianist, who fascinated the audience worldwide.
The musician toured many countries, including Bulgaria, Germany, Greece, Denmark, Israel, Italy, Cuba, Norway, Portugal, Tunisia, Turkiye, Finland, France, etc.
Since 1991, Farhad Badalbayli has been the rector of the Baku Music Academy.
Farhad Badalbayli's birthday was marked in Austria, Azernews reports.
Speaking at the event, director of the Azerbaijani Culture Center in Vienna Leyla Gasimova informed the audience about the pianist's contribution to the Azerbaijani music.
In her speech, Leyla Gasimova underlined that Farhad Badalbayli grew up in a large creative family, closely associated with Karabakh. Formerly, Karabakh, in particular, the city of Shusha, being the cradle of the culture of the South Caucasus, brought up outstanding personalities, who left an indelible mark on the history of Azerbaijani art and music.
The Badalbayli family played an important role in the cultural and public life not only in Karabakh but also across the whole of the country.
Farhad Badalbayli's grandfather Badalbay was an outstanding teacher and educator, his uncle, Afrasiyab Badalbayli, was a composer and conductor, and his father, Shamsi Badalbayli, was a well-known director and actor. Growing up in a creative environment, Farhad Badalbayli also closely connected his life with music.
In her speech, Leyla Gasimova brought to the attention that the prominent musician is one of the personalities that occupy a special place in the country's cultural and social life.
Farhad Badalbayli's merits in turning the Gabala International Music Festival into a globally recognized cultural event are invaluable.
Invited to Vienna in 2022 as the honorary chairman of the jury of the Sounds of the Land of Fire international music festival, Badalbayli contributed to the popularization of Azerbaijani music in Europe and the identification of young talents.
The event also featured documentary videos dedicated to the musician.
In the artistic part of the event, Farhad Badalbayli together with the laureate of international competitions Dennis Hasanov (violin) and Maria Shebzukova (soprano), presented a classical concert program.
The concert program included musical pieces by Gara Garayev, Jovdad Hajiyev, Mikhail Glinka and Johannes Brahms, and other composers.
The musical pieces Ave Maria and Sea composed by Badalbayli himself as well as Tofig Guliyev's Gaytagi were enthusiastically received by the guests at the gala concert.