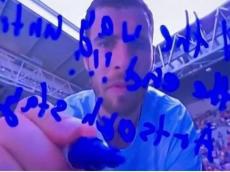 Karen Khachanov, a Russian tennis player of Armenian origin, has repeated the provocation he made two days ago at the Australian Open, Azernews reports.
Karen Khachanov signed a camera lens in support of the Karabakh separatists and following his action, Armenian fans hung separatist symbols on the court stands. Karen's action is a provocation that is entirely inconsistent with sports principles.
Generally, the organizers do not allow politicizing any sports tournament, but Karen has not received even a formal warning from the organizers.
Commenting on Karen's provocation, Russian coach Vladimir Kamelzon said that he should fear possible sanctions for supporting the unrecognized separatist entity in Karabakh and that sports should stay out of politics.
The Azerbaijani Tennis Federation has already sent a letter of protest to the ITF regarding this provocation against Azerbaijan. The ATF condemned this act, demanded that the tennis player be punished, and urged the ITF to take harsh measures to prevent such incidents in the future.