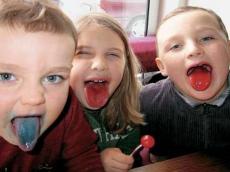 By Amina Nazarli
You can hardly find a person who can remain indifferent towards sweets. But we should keep this fact in mind that the most delicious foods like sweets are also the most harmful ones as well.
The sweets not only contain a huge amount of sugar but also include chemical additives, dyes, substitutes and many other harmful additives for human body.
Parents should take care about the color of the purchased sweets, as their bright colorful view means their richness with dyes. They can irritate the child's stomach and cause allergic reactions in him or her.
Most of the products sold in the markets contain many nutritional supplements, especially cheap products.
In 2013, a scandal was unfolded in the US food industry. Mars Company faced some angry parents, collecting signatures for a petition against the company to stop the use synthetic dyes in M & M's candy.
They claimed that, the candy made from petroleum products was negatively impacting their children's health and causing irritability, anxiety and neurosis.
So, should we allow our children to eat such sweets coloring their hands and mouth?
Head of the Azerbaijani Free Consumers Union Eyyub Huseynov believes that Azerbaijan's sweets market is suffering from many problems today. He also noted that in many cases consumers are not aware of the problems.
"The sweets which leave their color in children's tongue and mouse are very harmful for human organism. They can lead to many consequences in children including allergies and skin diseases. Parents should keep their children away from such candies," Huseynov noted.
He claims that jujube and colorful beverages which seem very attractive for many children contain many chemical ingredients to give them a taste and appetizing appearance.
"According to the Law on Consumer Protection all the ingredients included in the products should be labeled on their packaging. Meanwhile, the ingredients with index E should be necessarily put on the packaging," Huseynov said.
The letter "E" on the label of a particular food product indicates its compliance with European standard and the digital code is the very form of supplements.
In the European Community countries, food colorings such as ?110, ?122, ?102, ?124, ?104 and ?129 are considered as very dangerous for children's health. Products containing these colorings may cause hyperactivity in children.
However, in 60 percent of cases manufacturers do not show this index on the packages of their products.
"Many of E-supplements are very dangerous for human health and may lead to cancer and many other bad diseases. That is why parents should be very careful," he stressed.
In Europe, some discussions are underway in this regard, prohibiting using of dyes in the manufacture of infant food. And while this law is still under discussion, several signs warning about a negative impact on children's activity are published on their packaging.
Sometimes parents just cannot resist against their children' demands. In this case Huseynov cited that parents have all the rights to require a welfare or hygienic certificate of a product from the seller. They must carefully read the ingredients as well as shelf life of purchased products.
However, sweets should not be eliminated from the diet, as they contain carbohydrates which are a source of energy for human body.
If your kids want something sweet, response them by offering dried fruits. Along with their sweetness, they are also beneficial. Fats and additives are contained less in dark chocolate, than in milky. The dark chocolate contains the maximum number of antioxidants and substances that are excellent prevention of cardiovascular diseases.