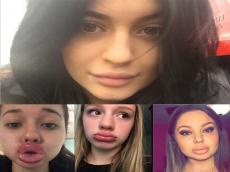 In a bid to achieve pouty lips à la Kylie Jenner, teens all over the world are engaging in a bizarre DIY lip job challenge called the #kyliejennerchallenge. It involves blowing up their lips to comically large proportions by sucking on a glass or a jar.
The method is reportedly rather painful – participants need to place their lips in the opening of any narrow vessel and suck in all the air, causing a vacuum. The lips will eventually swell due to increased blood flow, creating an effect that teens hope will resemble the 17-year-old Kardashian clan member's highly coveted pout.
The craze continues, despite Jenner's insistence that her lips are 100 percent natural. As the challenge grows in popularity, scores of teenagers – both boys and girls – are posting pictures and videos of their shocking results. While some of them seem to have gotten away with mild swelling, others have severe bruising and bleeding around the mouth. And seems that the results of the challenge last for hours, and sometimes even days, which is a lot longer than some of them expect.
"I screwed up," one teenage girl posted online, along with her #kyliejennerchallenge selfie.
"Made my chin look like a hickey a week ago and I'll say I've never felt so dumb." another admitted.
Last month, a swimwear model was in the news for sucking into a hairspray lid, and ending up with disastrous results. A pair of Icelandic sisters also found themselves in a similar situation – they sucked into a bottle and were left with swollen, bruised, blue lips.
"I just wanted to try it and see what they would look like, I've never done it before, and I won't be doing it again," 18-year-old Yrja Ás Baldvinsdottir said. "It was very, very painful. My lips turned blue. "But after we put our photo on the popular BeautyTips Facebook page we've seen a number of girls copying us."
"I want to warn people against do-it-yourself lip expansion, but was really surprised and shocked that it ended up being something that loads of people were copying," she added.
Icelandic cosmetic surgeon, Pordiis Kjartansdottir, said that this was the first time she had ever heard of the method. "I can definitely say that this would be dangerous even just to try it, and especially if somebody does it more than once," she warned. "The lips lips turned blue because blood fills up and they could easily become infected and lose all sensation. It is a really dangerous stunt and I'd advise strongly against anybody trying it."
But instead of acting as a deterrent, the horrifying pictures and stories seem to be spurring on more and more teens to take up the challenge. But there still is hope for the world – a few teens seem smart enough to realise that the challenge is ridiculous.
"I hate our generation. It's so dumb. Like you guys are really sticking your lips in small cups," one teenager ranted.
"Do people not realise they're bursting blood vessels?" one pointed out, while another wrote: "Stop with that Kylie Jenner challenge it's so gross."
Interestingly, the DIY lip enhancing technique isn't a new one. In fact, 'lip plumping' tools like fullips – shaped a lot like bottle caps – are available on the market and work in the exact same way.