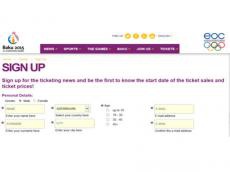 /AzerNews/
By Nigar Orujova
Baku 2015 European Games has opened a sign-up page on its website to allow fans to register their interest in purchasing tickets for next summer's event.
The website allows international and Azerbaijani supporters to request ticketing updates on the sports program as well as receive all the latest news from Baku 2015.
Ticket sales to the general public will open next year, but those who register their interest now will be first to be sent frequent email updates on all the latest developments as the countdown continues.
Baku 2015 Chief Operating Officer Simon Clegg said: "The launch of the sign-up page in an important moment as we continue to approach the inaugural European Games."
"We know that fans will be keen to secure their place as soon as possible to attend Baku 2015 and watch history in the making for themselves, and this system will make it easy for them to keep up to date with all the latest news and information about the ticket sales process next year," he added.
The sign-up page has been developed and implemented by Tickethour, the Official Ticketing Supporter of Baku 2015.
Commercial Director of Baku 2015 Charlie Wijeratna said: "We anticipate interest from all over Azerbaijan and across Europe as fans will want to share in this unique experience for the continent's top athletes.
"This system will be the best place to receive all of the latest Baku 2015 news, so I would urge those interested to sign up as soon as possible to ensure they will be able to secure their seats at the first European Games," he stressed.
The first European games will take place from June 12 to 28, 2015. More than 6,000 athletes will compete in a total of 20 sports over the 17 days of competition next year.
To register on the website, please visit: https://tickets.baku2015.com/signup/homePage.html