Today.Az

»

World news » World Bank revises up Turkish growth expectations for 2023, 2024


07 June 2023 [23:00]

- Today.Az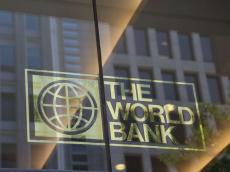 The World Bank revised up its Turkish economic growth expectations for 2023 and 2024, according to its Global Economic Prospects June report released Tuesday, Azernews reports via Anadolu Agency.
The Turkish economy is now forecast to grow 3.2% this year and 4.3% next year, up 0.5 and 0.3 percentage points, respectively, from previous projections.
The international financial institution, in its January report, was previously expecting the Turkish economy to grow 2.7% in 2023 and 4% in 2024.
The latest projections have Turkiye's economy growing 4.1% in 2025.
"Turkiye was hit by two major earthquakes in early February, with direct losses estimated at 4 percent of 2021 GDP. However, the full costs of recovery and reconstruction could be twice as high," said the report.
"The evolution of macroeconomic policies is uncertain against the backdrop of high inflation, which has been met with further interest rate cuts by the central bank, alongside the general elections that took place last May," it said.
It stressed that exchange rate depreciation, high current account deficit, low net foreign exchange reserves and high inflation present significant challenges for Turkiye.
Despite the headwinds the Turkish economy remained resilient in the first quarter as Turkiye remains a key contributor to the growth of Europe and Central Asia, it said.
While domestic demand remains a key driver for the Turkish economy's growth, the revised projections are partly a result of positive momentum from strong growth recorded in late 2022 and additional government support to households, according to the report.
Reconstruction efforts from the earthquakes are also expected to support investment, it added.
The World Bank also noted that Russia's imports from Turkiye more than doubled last year.