Today.Az

»

World news » Heavy rainfall, hail, strong wind affect Georgia's east


07 June 2023 [21:35]

- Today.Az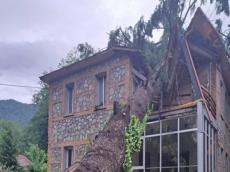 Heavy rainfall, hail and strong wind between Monday and Wednesday affected municipalities in the central and eastern Georgian regions, causing damage to buildings and floods in residential homes, Azernews reports, citing Agenda.ge.
A tree uprooted by strong winds in Lagodekhi Nature Reserve in the eastern Lagodekhi municipality fell on the visitor centre of the visitor destination, damaging a part of its roof, ceiling and inventory.
Abundant overnight rainfall and winds in the same municipality affected several villages, flooding entrance floors and basements of residential houses, agricultural beds, vineyards and greenhouses. Electricity poles and wires were also damaged.
Lagodekhi City Hall said relevant services of the municipality, special equipment and rescue services had been mobilised to respond to the emergencies, with Deputy Mayor Nino Batiashvili visiting the affected areas.
Tuesday's heavy rain also affected the village of Gavazi in the eastern Kvareli municipality, as yards, entrance floors and basements of residential houses were flooded after water levels of River Phatmasuri crossed its natural boundaries.
The overflowing river also flooded central streets of the village, causing road restrictions, while agricultural fields were also destroyed. The State Representative in the Kakheti region met residents affected by the weather.
Hail and heavy rain hit central Georgia's Gori Municipality on Monday, damaging about 10 villages. Heavy rainfall created a torrent, with fruit trees, vineyards and plants in yards of residences damaged.
Heavy rain also affected the central-eastern region of Shida Kartli, flooding streets and ground floors of residents of the locality.