Today.Az

»

World news » US, UN condemn North Korea's attempted launch of military satellite


31 May 2023 [21:10]

- Today.Az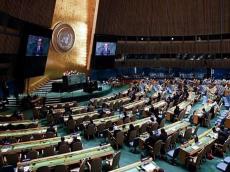 The US and UN on Tuesday condemned North Korea's attempted launch of a military satellite and called on the country to engage in negotiations for the denuclearization of the Korean Peninsula, Azernews reports via Anadolu Agency.
"The United States strongly condemns the Democratic People's Republic of Korea (DPRK) for its launch using ballistic missile technology, which is a brazen violation of multiple UN Security Council resolutions, raises tensions, and risks destabilizing the security situation in the region and beyond," said White House National Security Council spokesperson Adam Hodge.
"This claimed space launch involved technologies that are directly related to the DPRK's intercontinental ballistic missile program," said Hodge in a statement.
Washington called for all nations to condemn the launch and urged North Korea to come to the table for serious negotiations.
"The door has not closed on diplomacy, but Pyongyang must immediately cease its provocative actions and instead choose engagement. The United States will take all necessary measures to ensure the security of the American homeland and the defense of our Republic of Korea and Japanese allies," said the statement.
UN Secretary-General Antonio Guterres also strongly condemned the military satellite launch, said his spokesman Stéphane Dujarric, adding that "any launch using ballistic missile technology is contrary to the relevant Security Council resolutions."
Guterres reiterated his call on North Korea to cease such acts and to swiftly resume dialogue to achieve the goal of sustainable peace and the complete and verifiable denuclearization of the Korean Peninsula.
Yonhap News Agency reported that North Korea launched the rocket at approximately 6.30 a.m. on Wednesday (2130GMT Tuesday), proceeding with a scheduled launch window between Wednesday and June 11.
However, North Korea later admitted to the unsuccessful launch and expressed its determination to make another attempt at the earliest opportunity.