Today.Az

»

World news » US, Saudi Arabia note improved respect for short-term ceasefire in Sudan: Statement


26 May 2023 [21:40]

- Today.Az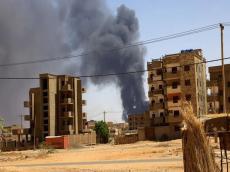 Saudi Arabia and the United States said on Friday that Sudan's warring sides were complying better with a ceasefire despite reports of sporadic fighting from Khartoum residents and of clashes elsewhere in the country, Azernews reports citing Al Arabiya.
The pair are monitoring a seven-day truce between the army and paramilitary Rapid Support Forces (RSF) that began on Monday, aimed at allowing access to aid and basic services.
Though fighting appears to have calmed, there has been no full pause in hostilities with reports throughout the week of clashes, artillery and airstrikes.
"Although there was observed use of military aircraft and isolated gunfire in Khartoum, the situation improved from May 24 when the ceasefire monitoring mechanism detected significant breaches of the agreement," a Saudi-US statement said.
Saudi and US representatives "cautioned the parties against further violations and implored them to improve respect for the ceasefire on May 25, which they did," it added.
Some 1.3 million people have fled the fighting, which stems from a power struggle between the military rivals, seeking refuge within Sudan or neighboring states.
The health ministry has said that at least 730 people have been killed, though the true figure is likely much higher.
Those who remain in Khartoum suffer from electricity and water outages, a breakdown in healthcare services and reduced communications. Many homes, particularly in well-off areas of the capital, have been raided and looted.
"When I heard it happened to us I wasn't that surprised," said Taysir Abdelrahim, who had left Sudan and found out her home was looted two days ago.
"Even if we were in Sudan there's nothing you can do about it," she said. "It's all part of the chaos of this war."
Food stores, flour mills and other essential facilities have been looted as well.