Today.Az

»

World news » Kazakhstan sends extra manpower to assist Türkiye in post-quake efforts


08 February 2023 [21:17]

- Today.Az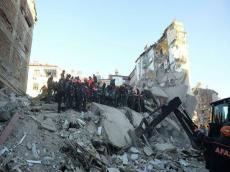 Kazakhstan is sending additional 60 rescuers to assist Turkish population suffering from the aftermath of a series of devastating earthquakes.
The squad consists of rescuers, cynology teams, and doctors of the Center for Disaster Medicine.
The emergency response forces of the Ministry of Emergency Situations are armed with 150 types of emergency rescue tools and equipment, and more than 160 types of medicines.
The rescue team will commence work at Gaziantep, which is the city that suffered from the quakes the most.
Consequently, the overall number of Kazakh rescue workers operating in Türkiye will reach 100.