Today.Az

»

Arts & Entertainment » First of its kind: Azerbaijani "Street Fighters" film hits the internet - PHOTO - VIDEO


01 July 2010 [08:35]

- Today.Az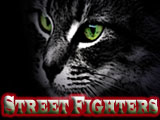 A few days ago, a short documentary film "Street Fighters" shot in Azerbaijan hit the internet.

The whole film was directed by himself, using just one camera. Story of the film focuses on the life of the homeless animals in Azerbaijan (Baku), and the director compares the animals to the "fighters" who practically have to "fight" for everything in their life, and each new day for them, can be their last.

"Supposedly this is the first film of its kind, shot in our country. At least, from what I know, there were only articles and short video reports on this issue. No movie was ever done, probably because its a non-commercial thing, and something not everyone would want to get into", explained the director.



The film features not only the animals themselves, but also short interviews with ordinary people of Azerbaijani capital, and an interview with the Head of Azerbaijani Animal Protection Alliance, Mansura Rasulzade.

"I know, I could have done better, but since everything I had to do myself, there were some obvious mistakes. I hope the point of the film will get to the people, and actually make them think more about the four-legged friends they live on the same ground with", said the director.



The film is being distributed only by "Compiler Pictures", and it has been shot in russian. Its free for watching, and can be viewed here:

http://rutube.ru/tracks/3376879.html




T. Teymur




/Today.Az

/



More articles from this author:



Story of a man behind the mask, or someone who made Arnold Schwarzenegger run for his life... - PHOTOS

Former kickboxing champion, Hollywood actor Gary Daniels: I learned a lot from working with Stallone

Legendary martial arts actor Matthias Hues: When you start off at a young age, it becomes your second nature

Mehriban Efendi: Sometimes its not so important to know what an artist created, feeling it just might be enough

Today.Az reports from the animal protection event held near Baku Zoo - PHOTOS

Eurovision-2010: the afterwords

INVISIBLE PEOPLE OF AZERBAIJAN - PHOTOS

Cult actor James Gaines speaks about his "Philippino action" days, shares memories - PHOTOS

Cult Hollywood actor Vernon Wells: Schwarzenegger loved pulling pranks, he was like a big kid! - PHOTOS

Cult Hollywood director shares his memories with Today.Az

Silent beauty of the Baku's Mime Theater – PHOTOS

Jesse V. Johnson: I use real soldiers, real criminals, and real strippers in my films

Canadian conflict expert Scott Taylor: US House Committee may have inadvertently set the stage for next chapter of bloodshed to begin

Azerbaijani "2010 Sony World Photography Awards" photographer speaks with Today.Az

Jalal Merhi: I met David Carradine a few months before his death

World famous artist considers Azerbaijan as part of his motherland - PHOTOS

Hollywood Legend: My fight with Clint Eastwood was the longest two-man fight scene on screen

Canadian war journalist Scott Taylor: Armenia can't move on forward with closed borders - PHOTOS

Jerry Trimble: It was a pleasure to fight Tom Cruise - PHOTOS

Tim Abell: Most heroes and villains share many of the same qualities on the screen

Damian Chapa: Everyone asks me why I did a movie about Roman Polanski

"Queen of martial arts movies" Cynthia Rothrock: I didn't like karate, it was hard for me - PHOTOS