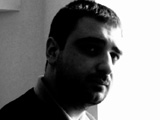 Each and every day we experience happiness, fear, aggression, passion, and other feelings. However, no one can really say what parents of a young 9 year old
Fariz Badalov
experience right now. Anger? probably. Rage? absolutely. Despair? possibly. Yesterday, armenian snipers opened fire in the occupied Agdam region, and little
Fariz Badalov
, a villager of Orta Garvand village was murdered. Yes, murdered, got a bullet in his head, and died in the hospital. He was just 9. In the wrong place, at the wrong time. Yet, no one dares to blame him.
Azerbaijan and Armenia are in a state of war, putting aside this ceasefire regime that is being broken almost everyday. Those of you who read the press, are aware that sometimes soldiers get shot and die on the frontlines, on both Armenian and Azerbaijani sides. However here, we have a completely different case, a child was killed. One doesnt need to have Einstein's brains to realize that the kid was not shot accidentally. He was shot on purpose. Why would someone shoot a child on purpose? Someone, without a heart, thats for sure.
For a second, put yourself into the killer's shoes: "What do we have here...an azeri...a little boy playing in the yard...i bet i can take him down with one shot. No one is going to find out anyway...". - this is just another proof that on the frontlines, lives do not cost much. And because of this fatal shot, parents lost their little son. Its no one's fault really, but there are people to blame.
Armenian society should read about this story, and really start thinking about WHO actually is out there "protecting" the frontline... Cowards, child-killers, murderers, mercenaries. Trigger-happy scum, nothing more. We all have families, mothers, and fathers, and respect should still matter in this world. Azerbaijanis did not put the pictures of killed Armenian soldiers on the social networking websites (like Armenians did with Azerbaijani national hero Mubariz Ibrahimov), and they do not shoot little children (like armenians did with a 9-year old
Fariz Badalov
). And no, we also havent forgotten Khodjaly.
Armenia should know, that
one day, these same child-killers will come back from the frontlines (if they dont get shot first) and they will live AMONG YOU
. Where are guarantees that they wont start shooting their own kids tomorrow?
Would you want one of these war-criminals to live next door to you?
Fariz Badalov is gone, it is a big loss for his family, and for all of Azerbaijan. Especially since it was a child who had his whole life ahead of him. That is not the point however. The point is that
the spirit will never be broken
, and the "beasts in armenian uniforms" should have long understood that. And payback will come, in one way or another.
T. Teymur
/Today.Az/