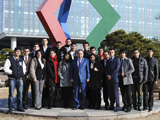 As part of "Your Corner" project, our compatriot from Korea, Adika, provided us with intersting information and pictures as well. The thing is, that Baku State university president Abel Maharramov came to KAIST university in Korea, and met with Azerbaijani students.
According to our reader, Maharramov talked to the students, and also brought them some presents from Baku. Maharramov also visited some laboratories of KAIST, and wished our students best of luck. Below are some pictures of Azerbaijani students with Abel Maharramov.
Also, check out the "mysterious" duck in the last picture. We have no idea how it got there, but it surely likes to be photographed.
Click photos to enlarge:
Don't forget that you also have an opportunity to share something of your own with us, and the rest of the readers. Whether it's an interesting episode of your everyday life, some sort of art, glamorous photos, videos, bizarre – weird – breaking news, interesting interviews, your own written science fiction tale, a sad love story or even a poem – share with the rest & let yourself be known.
Editorial board reserves the right to publish your sent material, or skip it, based on our policies. When sending your material, please choose one of the following:
real life stories, own written story (fiction), photo-video, other
. Also, please provide the full name we should credit the material for, and a short description of the material itself.
All of the materials are to be sent here:
[email protected]
Send them out, "Your Corner" is waiting!
/Today.Az/