"Your Corner" is exactly what you think it is - your stories, pictures, art, and pretty much everything else you can share with the rest.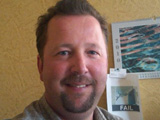 This article was sent by one of our regular readers, Matthew Kent, who currently lives and works in Azerbaijan. Reading about the tragic faith of Azerbaijani ensign Mubariz Ibrahimov made him write an article about our National hero. So, below is a point of view, a sorrow, an open letter of admiration from one soldier to another.
"A fallen hero is never a bargaining tool"
"Mubariz Ibrahimov I have just discovered has been declared a national hero of Azerbaijan. I do not know much about this man, this soldier, but after reading what I have read, there is no doubt in my mind, that as a former career American military man and defender of my own country, I feel it is my duty to a fellow man who was only doing what was asked of him and what he felt was his duty to defend his country. That he is a hero and deserves the respect and admiration of any man who has taken up arms to defend his country, his people and his beliefs. I at one point in my life and about the same age as Mubariz took up arms to defend not just my country, but other countries. It is my honor to write this.
Mubariz Ibrahimov from what I have read, was engaged by enemy forces in the frontline in the village of Chayli on June 18th or the 19th. Today is Aug 6th and his body has still not been returned to his country or more important his family so that he may be properly buried. This can no doubt in my mind be an effort by Armenia to use this heroes body as some sort of
bargain? A bargin chip for concessions on what? Negotiations with separatists of Karabakh?   Political gain? Its dishonorable and to me is disgusting and insulting to every man who has fought for their country or has given the ultimate sacrifice and honor to die for what they believed. It does not matter what country, what war he was involved in or even his
nationality. He was a Patriot and defender of Azerbaijan. If used in this matter shows to me that Armenians have no respect for the dead and more importantly no respect for Azerbaijan.
No matter what the persons religion or faith, disrespect is universal and there are no  international boundaries. This man fight and died for his country and is a hero and deserves that respect. Any modern battle field, the deceased are revered and honored for what have done, for there can be no greater sacrifice. That is true now as it was 200 years ago and 2000 years from now. The pictures I have seen on the internet that were posted on a Russian Social
networking site disgust me, as I am sure of his family, his fellow soldiers and the people of Azerbaijan! To be more honest, I am outraged this was allowed to happen. His body is not a piece of propaganda, a photo opportunity!
Once again I ask, where is the dignity Mubariz deserves, where is the honor of Armenia? I believe as many others do, the only proper pictures of  deceased heroes, are ones draped in their National flag. Pictures of respect, honor and dignity.
The other pictures I have seen of Mubariz are ones of him being a proud solder and defender of Azerbaijan. He fought hard, he was determined and he died as a hero for what he believed in. He was but one man, expressing the will and determination of millions of Azeris demanding the return of Nagorno-Karabakh to the people of Azerbaijan so that peace can be finally be expressed. Mubariz was so determined, he gave his life and in that, my Beret is off to him."
Matthew Kent
Baku, Azerbaijan



Don't forget that you also have an opportunity to share something of your own with us, and the rest of the readers. Whether it's an interesting episode of your everyday life, some sort of art, glamorous photos, videos, bizarre – weird – breaking news, interesting interviews, your own written science fiction tale, a sad love story or even a poem – share with the rest & let yourself be known.
Editorial board reserves the right to publish your sent material, or skip it, based on our policies. When sending your material, please choose one of the following:
real life stories
,
own written story (fiction)
,
photo-video
,
other
. Also, please provide the full name we should credit the material for, and a short description of the material itself.
All of the materials are to be sent here:
[email protected]
Send them out, "Your Corner" is waiting!


/Today.Az/